It is amazing how the world begins to change through the eyes of a cup of coffee. As our taste in coffee becomes more distinct and sophisticated, we often learn that the world of coffee is big, and there are many varieties to choose from. Maybe you've found your favorite coffee but want to diversify your taste buds; then we have a fascinating topic for you. Today, we are going to compare two coffee variants head to head—Ristretto and Arpeggio. While both are variants of Espresso, each has a distinct persona and unique taste.
Ristretto means restricted, and in terms of coffee, it refers to a short shot of espresso, which is around 30 ml from a double basket resulting in a concentrated liquid. Arpeggio is more intense and is packed with aroma and flavor, creating a full-bodied flavor towards malt, wood, and subtle cocoa notes.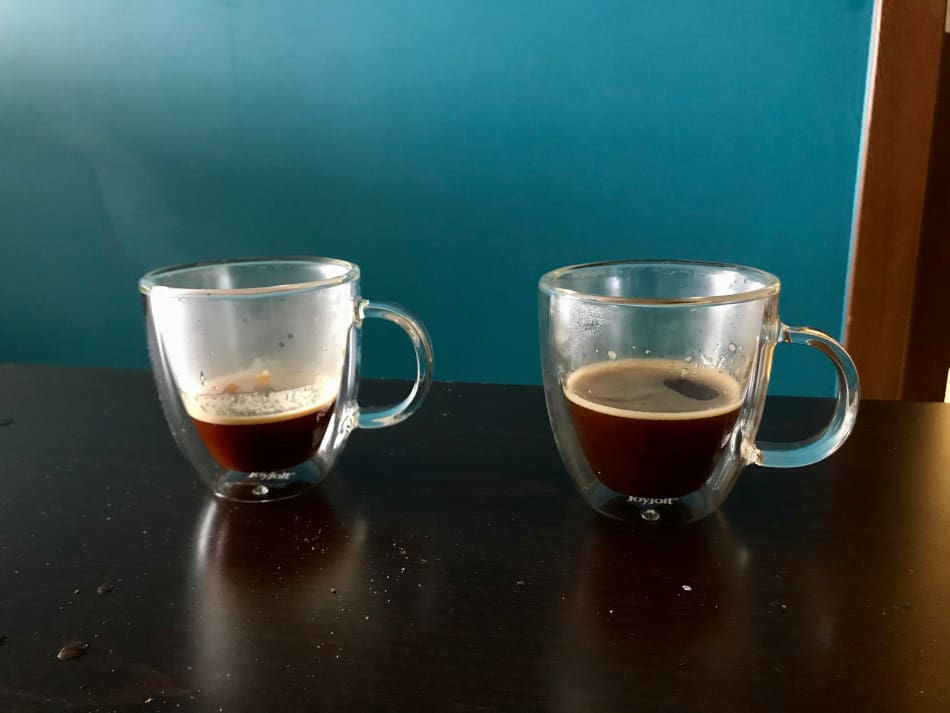 What Is The Difference Between Ristretto and Arpeggio?
If you are looking for a potent yet perfectly balanced espresso, Ristretto's shot is a great choice. You will benefit from the flavor and richness of the shot of espresso, in a compact serving, without the aftertaste and acridity.
If you like an intense, full-bodied espresso shot but is also packed with aroma and flavor, Arpeggio is the one for you. Arpeggio is an up and coming coffee variety, and there are only a few people who have experience tasting it—be one of these few people and try it out.  
| | |
| --- | --- |
| Ristretto | Arpeggio |
| Grind used for these capsules is fine to create an Italian-style brew | Fine grinding brings out the full-bodied flavor further |
| Slowly roasted to produce a really intense and original bouquet | Malty, fruity profiles that are characteristic of Costa Rican coffees |
| More concentrated compared to Arpeggio | Woody, almost grilled overtones, and subtle cocoa notes |
Fun fact: Coffee drinkers are less likely to contract deadly diseases. Studies have shown that patients with higher levels of caffeine in their blood were less likely to contract Alzheimer's disease. Also, they found that coffee had positive results on Type 2 diabetes patients and even protected women from skin cancer.
What Is Ristretto?
With its Italian origins, Ristretto means narrow or restrict in English. Ristretto's defining feature is that it is a shot of very concentrated coffee. Distinct taste, shorter extraction time, finer coffee grind, and smaller water volume are just some of the many elements that make Ristretto special. This special process leads to a brew that produces a sweeter, more concentrated flavor that offers minimal to no bitterness since Ristretto has an overall shorter pull than an Espresso.
These are the features that make Ristretto appealing to people who want to taste something new:
More concentrated—the first part of the extraction is the most concentrated; therefore, being a shorter shot, Ristretto is far more concentrated than a longer brew.
Different balance—different chemical compounds dissolve at different rates. Ristretto contains faster-extracting compounds, therefore having its own unique balance.
Fewer Total Extracts—fewer coffee compounds are extracted into a Ristretto, like caffeine
While Ristretto might not be the most common drink requested in any cafe, it is a unique drink worth offering to coffee enthusiasts, and one that's likely to challenge their assumptions around coffee and how it should taste like. If you are conscious about caffeine intake or want more information about Ristretto, we have an article.
What Is Arpeggio?
Arpeggio has a nice sound since it has an association with music—it is long roasted with an excellent grind. Compared to Ristretto, Arpeggio is slightly less intense and less strong. Its beans come from South and Central America, and you will distinctly taste cocoa and woody hints. Arpeggio delivers a thoroughly roasted coffee blend with malty, fruity profiles coming from Arabica coffee beans.
Below are features that make Arpeggio a worthy adversary:
Pretty rough upon the first sip—pay attention to your food because its strong taste will overpower anything sweet.
Distinct taste—the experience is close to eating a 90% cocoa dark chocolate.
Originated from Latin America—its beans are finely ground to bring out the full-bodied flavor.
Have we mentioned that Arpeggio is hard to find and there are only a few information available on the internet as of the moment and there's even fewer variants to choose from!  
Arpeggio Suggestions
If you are intrigued by what Arpeggio will taste like or what to order then, we have some great suggestions for you to try and experience. Below are some of the great Arpeggio selections:
Nespresso Capsules OriginalLine, Arpeggio Intenso tops our list since Nescafe, Nespresso maker, has been offering a wide and taste coffee choices for a long time. Nespresso's capsules are made of recyclable aluminum, as it is the material par excellence to protect them from oxygen, light, and humidity. In this way, the freshness of the aroma, taste, and quality of the coffee is also guaranteed and can be a great gift for your friends, colleagues, and family members!
Here are more features of Nespresso Capsules OriginalLine, Arpeggio Intenso:
Intense and creamy, with fruity/malted profiles, and is roasted intensely to bring out each origin's characteristics.
Offers intense, grilled notes alongside subtle cocoa notes and woody hints
Experience exceptional coffee quality that only Nespresso can bring
Many people love decaffeinated coffee, which is why second on our list is Nespresso  Ispirazione Firenze Decaffeinato Arpeggio. If you are looking for less caffeine while having almost the same taste like an original Arpeggio, then this is the best product to get. Ispirazione Firenze Decaffeinato Arpeggio has a fruiter, lighter roast balance giving it a blissful act. Even though it's decaffeinated, the bold roast and cocoa notes are not diminished. Nespresso Decaffeinato Intenso Coffee Capsules have hints of red fruit, typical of certain wines, softened by notes of dried fruits and buttery notes.
Being decaffeinated, below are some of Ispirazione Firenze Decaffeinato Arpeggio's distinction:
Experience a decaffeinated coffee with a creamy, velvety texture which is irresistible
Provides a good balance between strength and acidity
A medium-strong smooth decaf coffee from Nespresso
Last on our list is Nespresso  Ispirazione Firenze Arpeggio, as many customers enjoy it for its woody nuances and mellow cacao note. Ispirazione Firenze Arpeggio's blend is a true reflection of Florence's cultural significance; it is a blend of Latin American Arabicas centered on an inherently malty Costa Rican coffee—all the other coffees used are also Arabica, and that unified taste is as magnetic as Florence.
Here are the characteristics of Ispirazione Firenze Arpeggio:
Experience malty aroma that turns into the cocoa notes that give this espresso its gravitas
Has a potent character that will push through the milk
Short and dark roasted, savor its dense and creamy flavor
If you are looking for coffee gift ideas for your family, relatives, friends, or colleagues since Christmas is almost upon us; then we do have our Best Specialty Coffee Gifts article, which covers different coffee gift ideas for you to choose from with budget ranges that won't break the bank.
Final Thoughts
The Specialty Coffee Shop has given you a comprehensive overview of Ristretto and Arpeggio and some useful information that you can impress your coffee fan friends! We want to thank you for spending time reading our article.
For a lot of us, coffee is one of the main reasons for getting out of bed in the morning and staying late at night. The pot's sound percolating in the kitchen and the gentle aroma of the coffee grains helps us get up. If you would like to know more about the wonderful world of coffee, then kindly visit our website to learn more. Remember that the best coffee variant is the one that leaves a lasting mark on your day!