As a food lover and coffee passionate researcher, a frappuccino is a mouth-watering delight for coffee and non-coffee a lot of people. It is also a very versatile drink, with numerous flavors and amazing customizations.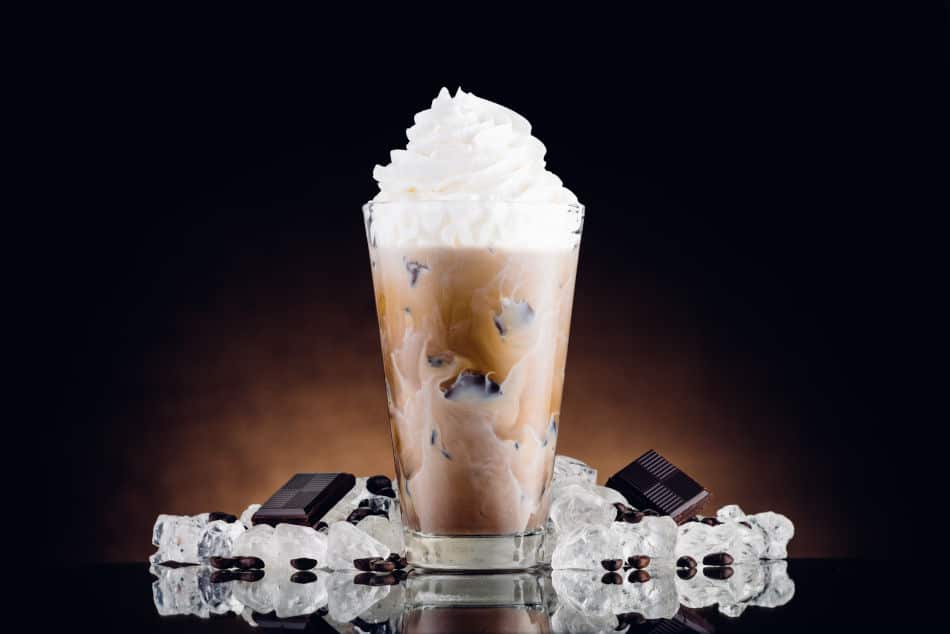 To get caffeine-free or coffee-free frappe also depend on the choice. Some people are not fans of coffee or could be one of the million people who suffer from caffeine withdrawal migraine. So you can opt for migraine-free frappe drinks.
You can order a frappuccino without coffee from anywhere you want by choosing a creme-based frappuccino. The basic elements of a frappuccino are blended ice, milk, sweetener, and syrup. Coffee and whipped cream are elements considered optional to the client. Vanilla, Chocolate, and fruit options are available, all without coffee.
If you want to get a deeper look into the topic, you are at the right place, and this article will help you get a coffee-free frappuccino at Starbucks or anywhere? Moreover, it will enable you to choose awesome diverse flavors without coffee or caffeine. Let's enjoy the most delicious flavors!
Frappuccino Without Coffee
Frappuccino is a famous trademark of Starbucks, which comprises a cold mixture of milk, ice,  and coffee or creme base. You can further customize it with coffee, a variety of toppings, and syrups. While, frappuccino without coffee is usually composed of chilled milk ice, milk with a base of crème base.
In case you want a deeper look into what Syrup Starbucks uses, we have a full article about it here!
Caffeinated or decaf frappe is up to your choice and taste buds. For example, if you want to be safe from migraine, you can order vanilla bean crème, strawberry flavor, smoked butterscotch crème,  and white chocolate crème frappuccino doesn't have caffeine.
Although crème frappe, matcha green tea crème, chocolate cookie crumble crème, chai crème, and double chocolatey chip crème doesn't have coffee, they still have caffeine.
Here are some of my favorite coffee-free frappuccino flavors that make me mouth-watering:
Caramel frappuccino without coffee
Decaf caramel frappuccino
Caramel ribbon crunch crème
Can You Get Frappuccino Without Coffee?
I'm a foodie person and love to taste different flavors of drinks. Frappuccino is a gift from heaven that comes in various flavors, while after ordering, you'll feel amused and relaxed. In my point of view, there is no sincere love more than the food of love, and people who adore eating are always the best. Plus, you are also the one who loves drinking shakes or frappes and seeking the query, Can you order a frappuccino without coffee? It means your food cravings are on top.
Yes, frappuccino without coffee is available, you can choose a creme-based frappuccino. And if you are concerned with a coffee-free frappe, you may also avoid creme frappe with chocolate or tea as are without coffee but contain caffeine. Vanilla bean creme and caramel ribbon crunch are delicious options for your savory cravings.
At the same time, if you are allergic to dairy products, you must be curious; you can get a frappuccino without dairy? So, it's big news for frappuccinos lovers.
Starbucks announced flavors of non-dairy Frappuccino drinks. The Caramel Waffle Cookie & Dark Chocolate Brownie are made with oat milk. Almond, Coconut, and Soy milk are options for the complete Frapuccino line-up on the menu if you prefer to customize the drink for Lactose-Intolerant persons.
Discover these at your nearest grocery shops, go and grasp your bottles. It comes in a 13.7oz bottle with a retail price of $3.40.
Pumpkin Spice Latte, Mocha, Cold Brew with Coconut Milk with ice only, Vanilla Bean Frappuccino without whipped creme, and Vanilla Bean Coconut Milk Latte are made with dairy-free products such as soy, almond, or coconut to make non-dairy frappe; These are the best options for Lactose-Intolerant persons.
Flavors of Frappuccino without Coffee
For diet-conscious people, low-fat milk and gluten-free bottles are recommended. Starbucks partners are always here to serve their best. You can customize your frappuccino without coffee by adding more or fewer ingredients to it. Additionally, for hot frappe lovers, it is impossible to achieve the same flavor with hot milk.
I have suggested the amazing flavors that you'll love.
Caffeine frappe flavor includes:
Chocolate cookie crumble – 15mg/16oz
Chai crème frappuccino – 40mg/16oz
Double Chocolatey chip – 15mg/16oz
Matcha green tea crème – 70mg/16oz
Caffeine-free include:
Strawberry frappuccino
Vanilla bean crème
Pumpkin spice creme frappuccino
White chocolate crème frappuccino
Caramel ribbon crunch crème
Smoked butterscotch crème
Consider The Thing Before Ordering The Frappuccino
For customers' safety, I would like to say that don't freeze Starbucks Bottled Frappuccino for the long term, as it can direct to bottle to break. I boost customers searching for a cool and creamy drink to pour their Starbucks Bottled Frappuccino over ice in an exceeding shaker and pour into a calming glass.
But it is also suggested that if an unopened Starbucks Frappuccino bottle is placed for the long term at room temperature, it can expire soon. Consume it as soon as possible.
Final Verdict
In a verdict, I would like to say that you can order a frappuccino without coffee or caffeine; it depends on the flavor you like most of all. I have mentioned a variety of flavors that will help you choose your favorite one on the Starbucks app or any shop on their menu. Let's choose the one according to your ease and taste buds and enjoy the love. For more queries contact us. Happy frappuccino day!
Frequently Asked Questions For Yummy Frappe
Can you get a frappe without coffee at McDonald's?
Unfortunately, You can't get the McDonald's Frappes without coffee at this time. Likewise, McDonald's doesn't have plans to prepare decaffeinated frappes. Also, all of the Frappes contain espresso or strong coffee since they are a part of the McCafe Espresso drinks for all locations.
How to make a frappuccino without coffee at home?
It's a good choice if you can't go to Starbucks but want to try their recipe at home to make it cheaper and more delicious, so the recipe for it is as follows:
Ingredients:
Cold milk
Sugar
Ice
Vanilla extract
Last will be the freeze or fresh flavors/fruit/nut you want to add like strawberries, pistachio, nuts, cookies, etc.
Procedure
Add some ice, sugar, and milk to the pitcher
Add a few drops of vanilla extracts + fruit/nut blend it well to give a smooth texture.
Pour the blend into an aesthetic glass.
Add some mashed fruit/nut to it.
Add whipping cream on the top of the frappuccino for garnishing.
Add some chocolate and nuts to give a more loving look.
Can you get a pumpkin spice frappuccino without coffee?
According to the customer's choice, pumpkin spice frappe is prepared by two methods with coffee and without coffee or creme frappuccino. You can also order at Starbucks as both are available on their menu.