This popular coffee chain is known for its fantastic-tasting drinks and peppy service. However, there is just something about these beverages that keeps you coming back for more. A lot of the drink's great flavor comes from syrup, but what kind of syrup do they use? 
Dutch Bros use Torani Syrup in their drinks. The syrups are used to enhance the flavor of each drink. The flavor of syrup varies based on the type of drink. The most popular flavor is vanilla, as it fits in each drink well, but Dutch Bros carries over 25 different flavors you can choose from.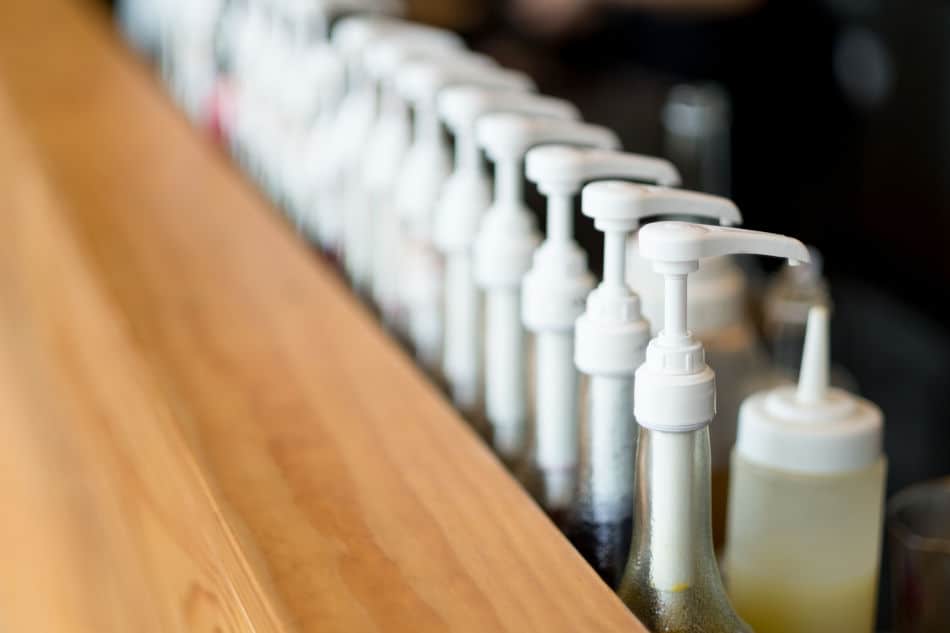 In the rest of this article, I will discuss Torani syrup and its many flavors, the amount of syrup Dutch Bros uses, and some copycat drink recipes you can enjoy. So if you want to learn more about how Dutch Bros uses Torani syrup in their drinks, read on. 
What Is Torani Syrup?
Chances are, you have consumed this syrup at some point as it's one of the most popular brands on the market. You can purchase Torani syrup for yourself on Amazon, at your local grocery store, or even be found on the counter at gas stations. I
Torani syrup is generally made up of a few ingredients:
Water. 
Pure cane sugar. 
Natural flavors.
Sodium benzoate.
Potassium sorbate.
Citric acid. 
Which natural flavors are used is highly dependent on the flavor of the syrup. For example, vanilla syrup utilizes actual vanilla to flavor the delicious syrup. 
How Torani Got Started
Torani is a very old business, which is why their products are widely available. Additionally, they are good at what they do, and the intense flavors they create are difficult to replicate. 
Rinaldo and Ezilda started the company in 1925; they brought the syrup idea over from Lucca, Italy, to California. The first flavors to hit the market were anisette, grenadine, lemon, orgeat, and tamarindo.
Since its beginning, the company has exploded with growth and now sells its syrups worldwide. Though there are certainly competing syrup types, Torani is still one of the leading flavor brands after all this time. 
Dutch Bros Torani Syrup Flavors 
Since the syrups add such intense flavors to Dutch Bros drinks, they stock many different varieties. Some flavors are unique, while others are more generic, like vanilla and caramel. 
Dutch Bros Torani syrup flavor list:
Almond Roca
Blackberry
Blue Raspberry
Brown Sugar Cinnamon 
Cherry
Chocolate
Cinnamon
Coconut
Banana
English toffee
Hazelnut
Irish cream
Kiwi
Lime
Almond
Passion fruit
Peach
Peppermint
Pomegranate
Raspberry
Ruby red grapefruit
Strawberry
Orange
Vanilla
Watermelon
Salted caramel
Each of these flavors is available to choose from when you visit Dutch Bros. Each drink type you order will contain different syrup flavors. However, you can always request your flavor combinations. 
Additionally, Torani offers some sugar-free options if you want a healthier version of Dutch Bros drinks. Luckily Dutch Bros stocks a few of these flavors. 
Sugar-free Dutch Bros Torani flavor list:
Chocolate
Coconut
Hazelnut
Irish cream
Raspberry
Strawberry
Vanilla
Peppermint
As you can see, the sugar-free options primarily cover your primary flavors. However, even the sugar-free syrups are delicious and add great flavor to your beverage. Want to try? Check its price on Amazon!
If you want to try these awesome syrups at home, I recommend the Torani Variety Pack (available on Amazon). This pack includes the four basic flavors vanilla, french vanilla, caramel, and hazelnut. Each flavor is delicious and can easily be added to your home coffee. 
How Much Syrup Does Dutch Bros Add Per Drink?
Since Torani syrups are so delicious, they are a staple for many Dutch Bros coffee drinks, but just how much of this syrup is being used in each drink? 
Dutch Bros drinks use about 10 grams of syrup in each beverage. The exact amount of syrup used in a Dutch Bros drink varies based on the recipe. You can always request more or less syrup in your beverage, depending on your preferences.
You can always ask an employee how much syrup they will add to your drink and adjust that amount if needed.
Dutch Bros Drink Recipe
The coffee beverages offered by Dutch Bros are delicious, and the great beverages keep you coming back for more. So it only makes sense to learn to make at least one of these fabulous drinks at home. Plus, making your own will undoubtedly help your wallet. 
Golden Eagle Dutch Bros CopyCat Drink 
The Golden Eagle is one of Dutch Bros' more decadent drinks since it utilizes a good amount of caramel syrup. Luckily this recipe is relatively easy to make so long as you have access to the espresso at home. You can still make it with regular coffee if you don't have an espresso machine. However, the flavor will be slightly different. 
What you will need:
2 shots of espresso.
6 ounces of half and a half or almond milk if you want something lighter. 
1 tablespoon of Torani vanilla syrup. 
1 tablespoon of Torani Caramel syrup plus some for drizzling. 
Ice. 
How to make a copycat Golden Eagle drink:
Brew two shots of espresso. The espresso should be a dark blend if you want it to taste closer to the actual drink. You can also always buy bagged espresso mix from Dutch Bros for a closer taste match. 
Drizzle some caramel syrup along the side of the glass. The pattern doesn't need to be neat. Aim to get the syrup to stick to the inside of the cup. Additionally, you can add as much as you want. Just keep in mind that the syrup is very sweet. 
Fill the cup halfway with ice. Place the ice gently if you don't want it to scrape your Carmel design away. 
Pour the two shots of espresso into the cup. You should ensure the espresso has had time to cool so it doesn't melt your ice too quickly. Also, pouring slowly will help not disrupt the contents of your cup as much. 
Add in 1 tablespoon of Torani's vanilla syrup and stir. Use a spoon to incorporate all the ingredients gently. 
Pour in half and half or milk. Make sure the milk is cold, and you pour it in slowly. 
Now it's time to enjoy your delicious beverage. You can also top this drink with whip cream and drizzle a little more caramel. 
How Flavored Syrups Enhance Drinks
Coffee is good on its own with a bit of cream and sugar. However, the drink can easily be leveled up by adding new flavors. The need for added flavors is the reason syrups came to be. 
Syrups enhance drinks by allowing unique flavors to mix. For example, bottled syrups make it easier to create fun Fall drinks like pumpkin spice or sugar cookie flavors. In contrast, more floral fruity flavors make fun combinations for summer drinks. The possibilities are endless. 
So each syrup flavor aids in creating new complex flavors that customers will love. These syrups are also great for baking dishes like cookies, pies, and cakes. 
Conclusion 
Dutch Bros, like many coffee shops, uses Torani's flavored syrups. These syrups have been around for over 90 years and have only garnered popularity with age. Additionally, many flavors are available, making the drink combinations endless. Not to mention, they taste great.