Forget splashing big bucks for everyday pick-me-up coffee at your favorite coffee shop. From hot coffee to cold brew to a literal dessert in a cup, there is nothing that you cannot make (and, dare I say, better) at home. The trick is to know the right ingredients and techniques, which is where I step in!
Read on as I dish out the secrets to the most delicious specialty coffee drink recipes that you can enjoy at home.
Replicating the Coffee Shop Experience: Try These 6 Recipes
Specialty coffee drinks can be made with just coffee and water (hello, espresso!) or fancy additions like cinnamon sticks and whipped cream. The ratios, brewing temperatures, and equipment make or break the drink. Sounds daunting?
Worry not; you can let your inner barista shine with these six specialty coffee recipes.

1. Cappuccino
Probably the most recognizable hot coffee drink after espresso, a cappuccino packs just the right punch. Usually, you need a 1:1:1 ratio of milk foam, steamed milk, and espresso to make this six-ounce cup of bliss right at home. (If you drink espresso regularly, this recipe is a great switch-up.)

Ingredients for 150 ml (5 oz.) of cappuccino:
25 ml espresso shot
85 ml steamed whole milk (foam will count for the additional volume)

Preparation:
Steam milk in a meat pitcher using a steaming wand till it reaches 140-150 degrees F (60-65 Degree Celsius) and is doubled in volume.
Tap the pitcher on the counter to settle the foam.
Pour espresso shot into a cappuccino cup.
Follow with frothed milk on top, starting from the center and moving towards the edges of the cup.
Tip: You can also froth the milk by shaking it in a mason jar and then microwaving it till it reaches 65 degrees to preserve the foam.
For cold coffee lovers, iced cappuccino makes a delicious alternative. Find the recipe here.
2. Caffe Latte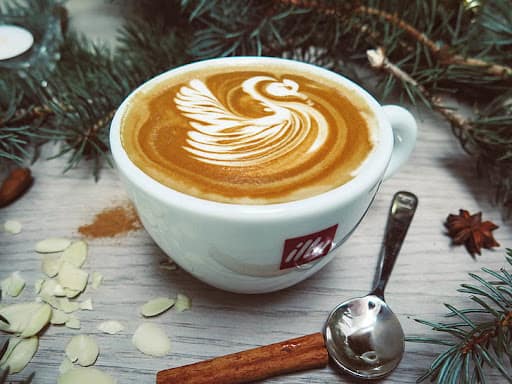 Whether you like it hot or cold, Caffe Latte is a staple in coffee shops all year long. You can enjoy it on its own or put your barista skills to the test by making sweet coffee drinks with the addition of flavors like pumpkin spice or vanilla syrup.
Here's how you can make a classic latte at home.

Ingredients:
Double shot of espresso (2 oz.)
Whole milk – 8 oz.

Preparation:
Add the espresso shots in a mug. If you want a sweetened drink, add the syrup before the espresso for better blending.
Froth the milk in a container till it reaches 140 to 150 degrees F in temperature. Make sure the frother tip is not shallow to create big bubbles. Tap the container to remove excess air.
Pour the foamed milk gently into the mug, with less than an inch of froth on top.
If you do not have an espresso machine or coffee beans, you can learn to make espresso with hot water and instant coffee here.
This espresso drink is exceptionally versatile and can be used for iced coffee recipes (think mocha latte), and you don't even need steamed milk for the rendition. Instead, pour the milk and espresso over ice, and you're good to go!
If you want more information about Latte, we also have an article discussing Hot or Cold Latte.

3. Iced Coffee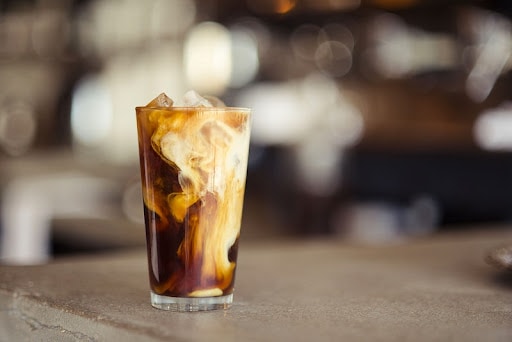 Often the go-to summertime coffee drink, iced coffee is delicious and can be made in many ways. Essentially just drip coffee served on ice; iced coffee recipes can include sweetened condensed milk or chocolate syrup to customize it to your liking.
Here's one simple iced coffee recipe with the pour-over method I love.

Ingredients: 
Medium to fine ground coffee beans – 1.4 oz.
Filtered water – 8 oz.
Ice – 8 oz. (coffee ice cubes to keep the intensity)
Gooseneck kettle
Chemex or any pour-over brewer
This is one method to brew iced coffee, we have an article covering 3 other iced coffee brewing methods here.

Preparation:
Put your ice (preferably weighed) in your Chemex and add the filter.
Place the coffee grounds and pour over 80 g of hot water (just off-boiling).
Wait 45 seconds and follow with the rest of the water in batches till it all drips down – 150 g, then 25 g, then the remainder of the liquid. The process should take about 2 1/2 minutes.
Let all the liquid seep through and enjoy the iced coffee in a tall glass.
You can add milk, whipped cream, or sweeteners to your iced coffee, even though I do not recommend adding sugar to coffee with milk.
Note: You can also make iced coffee drinks with cold brew, which typically last longer in the fridge than regular drip coffee, as they are more concentrated.
4. Cold Brew Coffee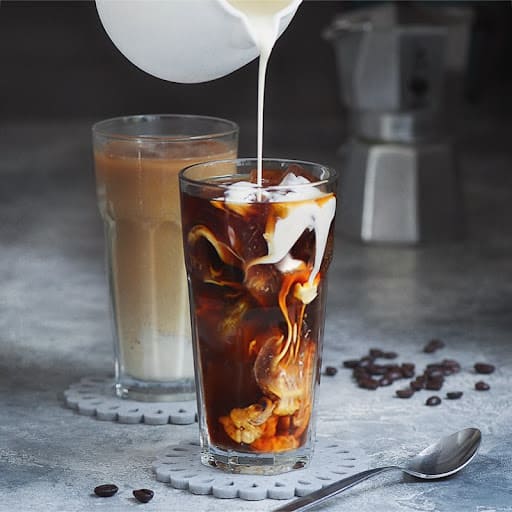 Cold-brew coffee takes hardly five minutes to prepare but requires a long waiting period, usually 16 to 18 hours.
While you can't have it in a flash, the long-brewing time makes for a much smoother coffee with less acidity. In addition, the heatless brewed coffee is perfect for a cold coffee drink with simple additions of water, milk, and syrup to taste.

Ingredients:
Whole coffee beans – 80 g
Coldwater – 4 cups
Preparation: 
Place coarse grind beans in a tall pitcher, add water and cover with cheesecloth.
Leave the mixture on the counter for up to 18 hours.
Strain and serve over ice (1/2 cup cold brew coffee and 1/4 cup water) for strong coffee.
If needed, add water and milk to dilute the taste.

There are several ways to filter Cold Brew, we have an article about the best methods and the respective tools here.
5. Irish Coffee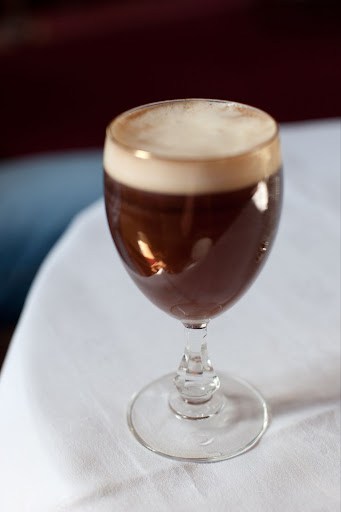 For a boozy caffeine kick that doesn't require coffee liqueur, espresso, or steamed milk, Irish coffee serves the purpose and more. Forget the coffee shop; this drink slash dessert makes for a delicious cup of Irish coffee and is surprisingly simple to make at home.

Ingredients: 
Dark roast hot brewed coffee – 6 oz.
Brown Sugar – 1 tbsp.
Fresh whipped cream
1.5 oz. Irish whiskey

Preparation:
Take a glass mug and pour in hot water to temper; empty the vessel.
Pour in hot coffee and sugar. Mix well until dissolved.
Add the whiskey and the whipped cream on top.

6. Affogato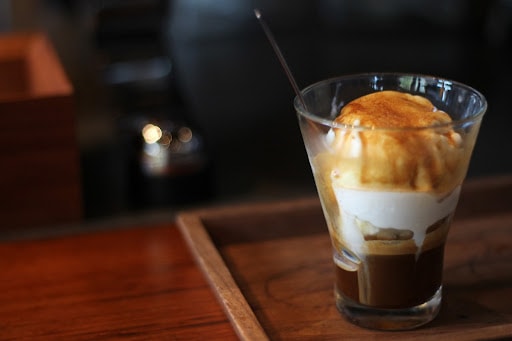 While there are many popular coffee drinks, none strikes a chord with me as the dessert espresso recipe: Affogato. Made simply with a hot espresso shot and ice cream, the Affogato is painfully simple, which is precisely what makes it so great.

Ingredients: 
Espresso – 20 – 25 ml
1.5 oz. vanilla ice cream

Preparation:
Scoop ice cream into a glass and pour the espresso on top.
Whip and add heavy cream or cocoa powder on top, if you like.
Not familiar with Affogato? Here you can find our full comparison between Affogato and Espresso.

A Parting Word
There are many other specialty coffee drinks to try at home, from Turkish coffee to the Spanish coffee drink (Cortado) to coffee soda to café au lait (the list could go on and on). However, trying your hand at these six simple, fool-proof recipes for caffeinated hot and iced drinks can help make you your own barista in no time.
Once you get the practice, you can move on to other delicious concoctions with smooth, rich flavors, saving you precious bucks (and time)!