Any coffee lover knows that a bad cup of java sets a negative tone for the entire day. When you're brewing your first cup in the morning, you need to know that your coffee machine is reliable and produces the absolute best every single time. So which coffee bar is better: the Ninja or De'Longhi?
Ninja coffee bars are affordable, intuitive, and convenient machines. Their product selection is limited, but each machine comes with a wide range of features. However, De'Longhi coffee bars dominate the market and offer professional quality that is thoroughly customizable every step of the way.
Both Ninja and De'Longhi are pros in the kitchen industry, but which one will produce the better pick me up? We're going to look at the two brands' lines, compare their most popular products, and figure out which one is best for you. So pour yourself another cup, and let's get to it.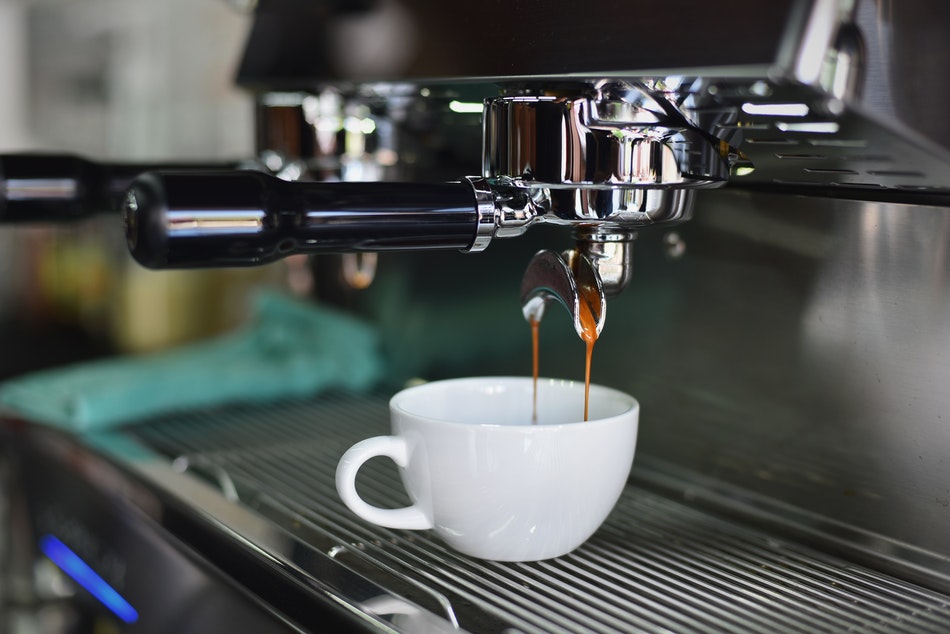 The Brands
When it comes to sheer variety, De'Longhi has Ninja beat by a landslide. Although, that does not mean that Ninja offers less in terms of functions and features. Let's take a look to see what's unique about each brand's offerings.
Ninja Products
Though Ninja only offers a few coffee bars options, it does not mean you'll be missing out. Their selection requires you to answer just one simple question: do you want a basic or advanced model?
If you're seeking a minimal, good quality cup of drip coffee, the Ninja Programmable Brewer is a fantastic option. It's basic enough for easy use while still offering helpful features to help you get the most out of your coffee maker. 
This brewer is programmable, so you can set your machine up at night and have it start brewing five minutes before your alarm clock goes off. What's better than knowing you'll have a cup of java waiting for you when you crawl out of bed? Not much.
Looking for a little bit more? The Ninja's Auto-iQ Programmable Coffee Bar model is the next step up. With this machine, you'll be able to customize your ideal cup way more – and it's still just as easy to use. 
Complete with five different brew options – classic, rich, over ice, specialty, or Ninja's exclusive cafe forte, the Auto-IQ has got your back whether you love a creamy iced coffee or a robust dark roast. The single-serve options are incredibly convenient, but the thermal carafe is perfect for entertaining. 
If that still doesn't do it for you, the most popular model is the Ninja Hot and Cold Brewed System. It's truly an all-in-one machine – and you don't even have to be a coffee drinker to fall in love with this one! Not only does it offer the same features as the Auto-IQ Programmable Coffee Bar, but it also features thermal flavor extraction, which means you can finally steep your tea at the proper temperature for your desired duration. 
You can also achieve the perfect cold brew in just 10-minutes. It's still smooth, rich, and never bitter while saving you hours of waiting time.
De'Longhi Products
De'Longhi has a vast selection of coffee makers perfect for the at-home barista. With an extensive collection of luxury machines that range from fully-automatic to manual to all-in-one, there's sure to be one that fits your needs.
The De'Longhi BCO430BM is a fantastic all-in-one model. While it is one of the brand's most basic models, it encompasses both espresso and drip coffee lovers' needs. Of course, it also features a milk steaming wand and is programmable, so you can set it and forget it. The design is simple and easy to use. It's enough to get the job done without breaking the budget. 
For something a bit more advanced, De'Longhi Magnifica model is a perfect automatic espresso machine. The outstanding professional quality of this coffee bar sets it apart. The built-in burr grinder produces fresh grounds with little cleanup. 
Plus, features like the patented cappuccino system, separate hot water spout for tea and other hot beverages, and double boiler to eliminate wait time between brewing espresso and steaming milk are unbeatable. 
The luxurious De'Longhi Prima Donna machine is for serious coffee lovers. It is fully automatic, meaning your perfect cup is literally one touch away. This model comes complete with thirteen different grind settings, smart technology that remembers your favorite drink, and comes with De'Longhi's patented LatteCrema System for layered, rich foam in every sip. Dreamy is an understatement.
Ninja Hot and Cold Brewed System
Ninja's Hot and Cold Brewed System offers a diverse range of features but also has some drawbacks. Here's a closer look at what you'd be gaining if you choose this machine, and what isn't so great about it. 
Pros of Ninja Coffee Bar
Ninja is more affordable than De'Longhi. If you're not looking to spend big bucks on your coffee machine, the Ninja is going to be your friend. Great coffee doesn't have to come at a luxury retail price, and with this one, you're going to be spending only a fraction of what you'd pay on a De'Longhi product. 
Ninja's price points are much more accessible for people who aren't looking to pay a fortune for their coffee bar.
The Hot and Cold Brewed System provides a drip coffee option. It's much more convenient to have a coffee maker with the option of regular or specialty coffee as opposed to having one system to brew each. Plus, you'll definitely save on counter space with this model. 
Even if you aren't the type of person who drinks standard coffee, it's always handy to have the choice to brew a carafe full. It's quick and easy to put on a pot when you have company over instead of crafting espresso drinks for every person individually.
There is more choice offered with the Ninja coffee bar, and not just for coffee drinkers. The auto iQ feature on the Hot and Cold Brewed System perfectly crafts any hot beverage. Its precise temperature and variable steeping times allow you to select the type of tea or coffee you'd like to brew, and it will automatically choose the correct heat and length of time for your perfect cup. 
Iced drinks have never been made better or faster. One of the Ninja Hot and Cold Brewed System's unique features is its ability to create fresh cold brew coffee or tea in just ten minutes. This would take hours if you did it yourself, but now you can have it on demand. No preparation is necessary.
With the "over ice" feature, you'll never have to worry about watery, diluted cold drinks anymore either. This setting automatically doubles the strength of the brew or steep: no more guesswork and ruined beverages. Your drinks will be perfectly smooth and bold every time.
Cons of Ninja Coffee Bar
Ninja is not as established in terms of coffee brewers. Though Ninja is a powerhouse in terms of kitchen appliances (hello five-star Pressure Cooking Air Fryers and Blending Systems), they are not quite as well-versed in the coffee field as some of their competitors, including De'Longhi. 
This doesn't mean that their product is not comparable, but the range of products they offer pales in comparison. Overall, they are the less tried and true brand between the two. Ninja is not the first line that comes to people's minds when buying a new coffee maker, but De'Longhi might be.
You won't be getting the freshest cup of joe possible. Since the Ninja Hot and Cold Brewed System does not include a grinder, you won't have on-demand grounds for your drink. You'll have to settle for buying pre-ground coffee or investing in a separate appliance to grind the beans freshly yourself. It really does make more of a difference than you may think. 
This model does not brew espresso. If you're a big fan of espresso drinks, count this Ninja coffee bar out. Though it does have a specialty brew setting for a more concentrated cup that will pair perfectly with steamy, frothed milk, it does not explicitly brew espresso. If you're looking for that ultra-concentrated punch of an espresso shot, this product will likely disappoint. 
De'Longhi Magnifica
The De'Longhi Magnifica is an advanced, high end, and best-selling machine without being too over the top like the Prima Donna model. It's the kind of coffee bar you see in your friend's house and talk about with your partner on the way home. Without a doubt, it's a star, but is it right for you?
Pros of De'Longhi Coffee Bar
If you're an espresso lover, De'Longhi's options are perfect for you. The Magnifica model specializes in espresso. It's all it does, and it does it well. You can easily choose your own temperature, strength, and cup size for your drink, and its twin brewing cycle allows for even more customization as it brews two cups of espresso at once.
Best of all, your Magnifica remembers your favorite coffee preferences. Turning on your machine will feel just like coming home to someone who knows you best.
The Magnifica heats up in just a minute. Some coffee machines seem to take forever to heat up – which is the absolute last thing you want while waiting desperately for a cup of joe. If you're an impatient person (who isn't before their first cup?), then its sixty-second warm-up time will really benefit you.
Built-in burr grinders make for the freshest and most flavorful brew. Fresh, whole beans are stored inside the coffee maker itself and are ground on the spot. This guarantees the best quality of flavor and freshness possible.
Burr grinders are the best way to grind coffee beans as they maintain the integrity of the bean. You're never losing out on quality this way. Plus, you can adjust the fineness of your grind. It's remarkably custom.
You're in good hands with De'Longhi. De'Longhi is one of the most reputable coffee machine brands on the market. In fact, they were named the number one company for fully automatic coffee and espresso machines in 2017.
With their specialized call center, if you have any issues setting up your machine or trouble with maintenance De'Longhi is there for you. They even offer advice on choosing the right machine or beans for you! 
De'Longhi's patented Cappuccino System creates the best foam. Any specialty drink that typically comes with foam needs it at home too. It's just not complete without the creamy white bubbles afloat the surface. 
This unique, specialized feature blends steam and milk to create the most luxurious foam that lingers throughout every sip. It's just how a cappuccino should be. 
Cons of De'Longhi Coffee Bar
De'Longhi machines can be quite expensive. The cost of De'Longhi products is not for the faint of heart. While the quality justifies the tag, be prepared to spend more than a few hundreds of dollars for a model like this one. Other De'Longhi models might even cost you a thousand or two. 
If you're upgrading your home coffee bar to cut out the takeout coffee and keep some extra dollars in your pocket, you might even end up spending a bit more if you're seeking a high-end model. 
It's more time consuming to make a specialty drink. Espresso is a favorite pick-me-up of many, many people, but if you're not one to drink a shot straight up, it definitely can take a little bit longer to handcraft that perfect sip.
Since the only one-touch option on this machine is a simple espresso shot, you will have to interact with it a little bit to get that frothed milk to create your latte. Will it be worth it? Yes. However, the extra few minutes it takes to customize that drink might not be convenient if you're used to the ready-to-our convenience of a pot of java.
There's no carafe option for drip-coffee lovers. As I said, this machine does espresso. There sadly is no option to brew a large quantity of drip-coffee – or any amount of it – with the Magnifica model. While it's not for everyone, it is nice to have the option to make a whole pot, especially when hosting. Each time you serve someone, you'll have to repeat the process all over. Custom? Definitely. Convenient? Not so much.
Which One Is Right for You?
Now you know a bit more about the two brands of coffee bars, but which one is going to be best suited to your needs? Answer the following questions to get a better idea of what kind of coffee maker is your ideal match:
How much time do you have in the morning? 
Are you the type of person who, no matter what, is always scrambling to make it out of the door on time? 
Do you leave the house with a piece of toast in your mouth and your jacket half done-up?
If this sounds like you, you should stick with a simple, one-touch machine. Features like the Hot and Cold Brewed System's Auto-iQ allows you to choose your brew and walk away, knowing it will be perfect regardless of what your drink of choice is for the day. 
If this ease of use sounds like something that would simplify your mornings, stick with the Ninja. Your coffee will be ready before you are, and that's just what you need.
What's your usual coffee order? 
Are you a drip coffee kind of person, or do you like your lattes made with double espresso shots? 
Do you even have a regular, or do you switch it up every time? 
If lattes and americanos speak to you, the super-customizable options of the De'Longhi are right up your alley. 
If you love a good cold brew or perfectly steeped tea, opt for the Ninja. Auto-iQ will never disappoint. The baristas at your favorite coffee shop will miss you because you'll be able to do it all yourself with your new machine!
How much do you usually spend on coffee per month? Be honest; we won't judge. It's no secret that fancy coffee bars can be quite a luxury item, but once you add up the price of your daily Starbucks runs, you might realize you'll be saving money in the long run if you're brewing it yourself. 
Ninja products are definitely more budget-friendly, so if you're looking to put some money back into your wallet, choose the Hot and Cold Brewed System. 
How much counter space do you have available? 
If you buy an espresso machine that doesn't offer regular cups of coffee, will you end up adding a more standard coffee maker to your kitchen as well?
If you don't have a built-in grinder, will you purchase a burr mill always to have the freshest grounds possible? 
From a specification point of view, the De'Longhi Magnifica is just slightly bigger in size, so choose based on what other appliances you can see yourself adding if one of these can't do everything you need.
Final Thoughts
Both Ninja and De'Longhi sell unique products that are highly customizable, depending on your personal preferences. Ninja is an excellent brand for those who are just dipping their toe into the world of specialty coffees and want to play around a little bit. 
However, De'Longhi's coffee bars are nothing shy of professional quality. Of course, the degree of luxury you're looking for will be reflected in the prices of both. 
If you'd like to save some money and still get a diverse, easy-to-use machine, opt for a coffee bar from Ninja. Although, if an interactive, top quality, fresh coffee experience is more what you're seeking, give De'Longhi a try. 
Sources