We all love to start our morning with a piping hot cup of joe. With dozens of coffee options to choose from, where do you even begin to decide? This article will be your complete guide to choosing between the Illy Caffe company and Starbucks Coffee Corporation. 
If you want a classic Italian experience and a fantastic espresso, go with Illy. However, if you want a chill coffee shop vibe with a delicious specialty drink, Starbucks is the right choice for you. No matter what you choose, you will get a delicious cup of coffee.
This article will explore two popular coffee brands and some of the pros and cons of each brand. You will learn how they are similar, the basic history and overview of each company, and in-depth pros and cons for each brand, and if you have ever wondered how Starbucks and Illy compare, this article is for you. Continue reading for all of this information and more.
Basic Similarities
Both of these coffee brands have been in operation for several decades, making quality coffee and fostering a warm coffee shop atmosphere for millions of coffee lovers around the globe. They both have locations throughout the world and offer customer loyalty programs, incentivizing customers to spend more time and money at their store.
They both aim to cultivate the traditional coffee shop atmosphere, attracting remote workers, meetups among friends and family, and a go-to lunch break destination. Lastly, they both focus on creating a more sustainable and ethical coffee culture between consumers and growers, a difficult challenge. However, the similarities end there. This article will dive deep into a comparison between Illy and Starbucks.
Illy Overview
Illy is a less famous but much more classic Italian style coffee shop found around the world. This company was founded long before Starbucks and has made a name for itself from its continuous innovative ways to manufacture and drink coffee.
Their mission is "to delight all those who appreciate beauty and flavor worldwide with the best coffee nature can offer, enhanced by the best of technology and art." They have earned four quality certifications and one sustainability certification.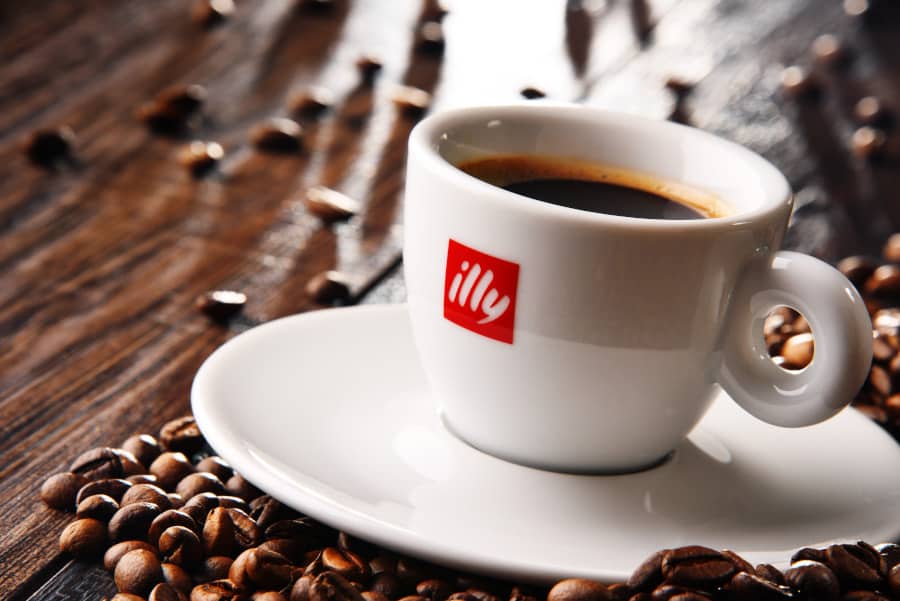 The Beginning
Francesco Illy, the founder of Illy Caffe and inventor of the Illeta (the first-ever version of today's espresso machine), opened the first Illy Caffe in 1933 Italy. By 1939, Illy was officially the European espresso ambassador and began shipping coffee across the continent. Today, the company employs thousands of people and has five specialized laboratories.
The Revolution of the Coffee Industry
Illy's dream was to offer the best coffee in the world, and the company quickly gained a reputation for using the most innovative and new techniques for delicious coffee distribution and roasting techniques. Illy is credited with the first version of today's high-pressure espresso machine, the Illeta. They also revolutionized shipping coffee worldwide by using a pressurized system to maintain its freshness and aroma.
By 1957, Francesco's son, Ernesto Illy, began working for the company and created the first research laboratory to partner with scientific institutions. They also revolutionized and modernized the coffee culture in many other ways, including:
1957 they created the cylindrical can for customers to take coffee home
1974 they introduced the first single-use portion on the market
1982 they patented the first coffee bean sorting machine, separating the duds from the perfect beans
1995 IIly's grandson invents the X1, the espresso machine that is still used today and changed the way we make coffee at home
2007 the company develops the Moka Pot, a classic Italian coffee pot
The Growth
Illy opened its first international location in Switzerland in 1939. A few years later, they moved into northern Europe, opening a store in the Netherlands in 1962. In 1980, they became the first Italian coffee roaster to cross the Atlantic, opening its first store in the United States. Today, they have 269 locations in 34 countries. You can find an Illy Caffe in airports, museums, and malls across the world.
The Illy Family
The Illy coffee company has been family owned and operated since its inception in 1933. Today, they are on their third generation of Illys running the company. Currently, Andrea Illy is the Chairman, and Anna Illy Junior handles relationships with the coffee growers. It is unusual for a company to remain in the family for multiple generations, but it likely contributes to their consistent quality and attention to detail.
Illy Pros and Cons
Now that you are a little more familiar with this popular Italian coffee brand let's get down to Illy's pros and cons. Take a look at this chart for a quick overview of the pros and cons discussed in the next sections.
| | |
| --- | --- |
| Pros | Cons |
| Subscriptions available | Significantly fewer stores across the globe |
| Generous rewards program | Fewer specialty drink options |
| Named World's Most Ethical Companies for seven years in a row |   |
| Affordable |   |
Pros
First, Illy offers several subscriptions for dedicated customers. If you cannot live without Illy coffee, they make it convenient to keep your home fully stocked. While their cafe may not be on every block, it doesn't have to be when you can have it delivered to your door on your schedule. To participate in the subscription program, choose your favorite blend and select when you want it delivered.
Second, they offer a generous rewards program. Coffee lovers from all over the world can join and immediately begin earning hearts. Users can earn hearts towards special rewards, exclusive promotions, and secret gifts! The rewards program has a tiered system, starting with Explorer (400 hearts), then moving on to Master (401-900 hearts), and finally Ambassador (over 901 hearts).
Third, Illy made the World's Most Ethical Companies List for seven years in a row. In 2011, they launched their plan to become a more sustainable company. By 2013, they made it on the world's most ethical company list for the first time. They remained on that list every year since then. This list's candidates are scored on ethics programs, culture, ethics, corporate responsibility, governance, leadership, and reputation.
For years, Illy has consistently stayed true to their values, and it has been rewarded.
They make a concerted effort to cultivate a lasting relationship with their growers. This means they are invested in their wellbeing, creating a positive cycle of producing quality coffee and ensuring a high quality of life for those who grow the coffee. The company has four pillars for a sustainable model:
Select the best growers
Share knowledge
Reward quality
Create a community based on compassion
Fourth, Illy coffee is cheap. Unlike Starbucks, you can get a latte or cappuccino for $3 and a simple cup of joe or espresso for around $2. Of course, prices vary by location.
Cons
First, they are a lot less accessible across the globe. Unlike Starbucks, you will not find an Illy Caffe on every corner. There might not even be one in your city. Illy has stores on five continents and in 34 countries across the world. Compared to Starbucks over 31,000 stores, Illy has only 160 in the world. However, keep in mind that you can get their beans delivered to your door year-round!
Second, there are a lot fewer specialty drink options. If you walk into any Illy Caffe, the chances are that the menu will be short and simple. Their emphasis is on quality espresso, so they will not be able to make a Pumpkin Spice Latte or Gingerbread Frappuccino. The fanciest drink on the menu might be a mocha.
However, if you want a classic Italian cappuccino or an espresso paired with a quintessential Italian dessert, then Illy will be perfect for you.
Starbucks Overview
As the largest and most successful coffee chain globally, it is likely that you have visited a Starbucks chain at least once. This massive coffee company has changed the way Americans (and potentially people worldwide) consume coffee. This section is about Starbucks: the history, its many pros and cons, and an overview of some of their more popular menu items.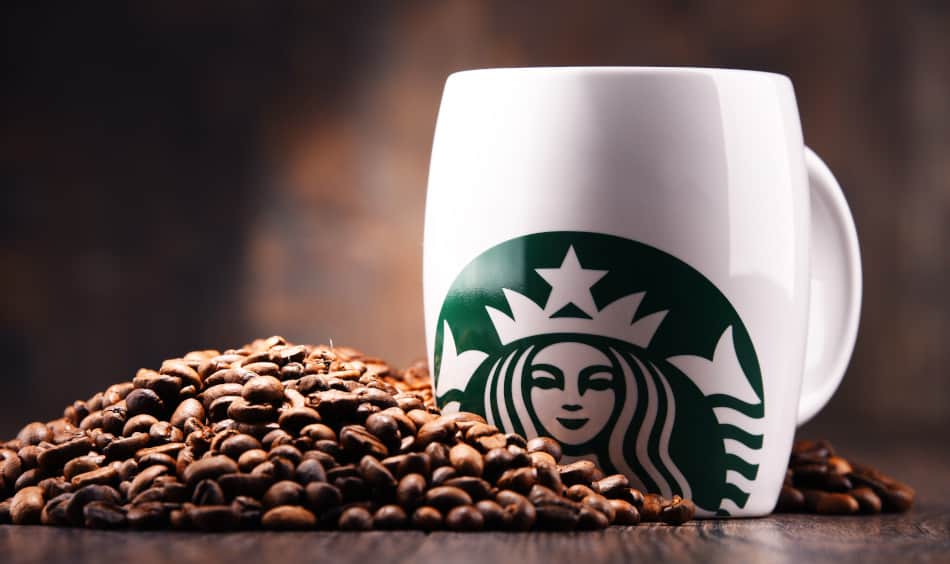 The Beginning
Starbucks opened its first store in 1971 in Seattle's Pike Place Market, the namesake of its medium roast coffee blend. By 1983, the new company director, Howard Schulz, visited Milan, Italy, and was blown away by espresso bars' culture. The Starbucks vision was grown out of his experience on this trip, and he quickly brought the idea back to his partners in Washington State.
The Starbucks partners loved the idea of creating a coffee house culture. The first experiment went extremely well. By 1987, only four years after Schulz's developed his vision for the company, they had opened 17 stores, including in Chicago and Canada, making them officially an international store.
The Growth
Their growth continues, and they open over 400 new stores over the next ten years for a total of 425 by 1994. They continue opening new stores at a high-speed rate, often more than 1,000 per year.
The company's wild success rates allow them to purchase Seattle Coffee Company, Torrefazione Italia Coffee, Tazo Tea, Hear Music (yes, Starbucks owns a music company), Ethos Water, Coffee Equipment Company, Evolution Fresh, Teavana Tea, and La Boulange bakery between 1999 and 2012. Today, there are over 31,000 Starbucks around the globe, spanning six continents and 76 countries.
The Work
Starbucks' mission is "to inspire and nurture the human spirit – one person, one cup, and one neighborhood at a time." The company's values create a welcoming culture, challenging the status quo, being present and transparent, and doing their best always. They have demonstrated these values in a few key ways over the years.
They have opened several Farmers Support Centers in the world's largest coffee-producing countries, including Rwanda, Costa Rica, Columbia, and China. These centers give farmers free access to the latest information on soil management techniques and varieties of disease-resistant trees. This initiative aims to improve the quality of crops, profits for farmers, and a more sustainable future for coffee lovers.
Starbucks has also promised to support the communities with which they do business, particularly the farms from which their beans come. They were verified as 99% ethically sourced in 2015 thanks to their C.A.F.E. Practices. This initiative, which stands for Coffee and Farmer Equity Practices, was developed by Starbucks in collaboration with Conservation International.
The aim to develop sustainable, profitable, and equitable coffee farming practices for farmers and their families.
They created a verification system that takes social, economic, and environmental criteria into consideration. To meet C.A.F.E's standards, Starbucks must meet four criteria: economic transparency, social responsibility, environmental leadership, and quality. This is a continuous process, allowing Starbucks to understand the challenges faced by farmers worldwide and make a concerted effort to alleviate those challenges.
The Controversy
Despite their impressive success, the business hasn't always been rosy for this mammoth company. Starbucks has been the center of public scrutiny many times over the years, including an incident involving two patrons at a Philadelphia store in 2018. This widespread and public controversy came when two Black men waited for their friend at a Starbucks in Philadelphia, Pennsylvania.
They were sitting in the Center City Starbucks without making a purchase when the manager asked them to leave. When the men refused, the manager called the police, and the two men were arrested.
While many companies face public scrutiny, Starbucks has made a concerted effort to become a more inclusive environment since this incident. They implemented racial bias training for their staff and began welcoming non-paying customers to sit in the store or use the restroom anytime.
Starbucks Pros and Cons
Now that you are a little bit more familiar with Starbucks' growth and history as a company let's get down to brass tacks. This section will go over all of the pros and cons of the Starbucks brand, including costs, availability, their use of technology to make ordering easier, and much more. Take a look at this chart for a quick overview of the pros and cons discussed in the next sections.
| | |
| --- | --- |
| Pros | Cons |
| Widely available around the world in 70 countries | Drinks are very caloric |
| Consistent quality across the world | Certified Starbucks coffee plantations have been identified as using unsafe labor practices |
| An app makes ordering ahead simple | Expensive |
| Generous rewards loyalty program |   |
| Offers college achievement plan for qualifying staff members |   |
Pros
First, Starbucks is widely available for a quick and delicious caffeine fix. As one of the largest coffee companies globally, Starbucks stores are located on almost every continent, nearly half of the countries worldwide, and every state in the United States.
With over 31,000 locations worldwide, the chances are that there is a Starbucks near you. The company has been opening new stores in droves since the 1990s, so there might be one soon if there isn't in your neighborhood.
Second, you can count on consistency at every location. That's right – you will be served the same caramel macchiato in Beijing, China, as you will in Dallas, Texas. The brand has put a lot of effort into ensuring a similar experience in each store, from the environment to the drinks. They have cultivated an atmosphere where you can count on familiarity, which offers a certain comfortability level, especially during travel.
Beyond the taste of the coffee and specialty drinks, a few other components make for a familiar experience. Each store goes to great lengths to foster a comfortable remote work experience with many outlets, fast internet, cozy tables, chairs, and classic indie style music.
Third, Starbucks has developed an application for smartphones that makes online ordering quick and easy. Their digital engagement strategy has made the Starbucks app one of the most widely used in the restaurant industry. Much of the Starbucks app's success can be attributed to its user-friendly platform and its personalized experience.
For example, customers that use the app can customize their favorite drink order, making it quick and convenient for frequent orders.
They also integrate other services into their app. Specifically, their collaboration with the music app Spotify has allowed users to create their own playlists within the Starbucks app for a unique and personalized experience. They also have a mutually beneficial partnership with the rideshare company Lyft in which users can earn loyalty stars towards free drinks when they use the Lyft app. Similarly, first-time Lyft users are free to drink at Starbucks.
Lastly, Starbucks recently joined forces with JP Morgan to create a credit card directly linked to their Starbucks app. Each time the card is used on other purchases, they earn loyalty stars to be used on free drinks and other items in the store.
These collaborative partnerships with other big brands have made the app integral to the Starbucks brand. Lastly, the app keeps users engaged by alerting them to special deals, happy hours, and double star days.
Fourth, Starbucks has a unique loyalty program that is unparalleled in the industry. The program incentivizes customers by giving them stars in exchange for spending money. For every dollar, the user gets two stars, which can be put towards bakery items, sandwiches, coffee, or even swag.
Members get additional perks such as free refills in the store, access to special events, and the ability to order and pay ahead of arrival. Users also get a free drink or sandwich on their birthday, keeping them engaged with the app and the store.
A two-tiered system encourages users to reach gold status and then offers suggestions for maintaining their status. Gold status members get special perks such as double star day. Starbucks' report showed that rewards members accounted for almost forty percent of the company's sales in some areas in the second quarter of the fiscal year 2018.
Fifth, the Starbucks brand has introduced a college achievement plan for staff members. Any full or part-time staff member has the opportunity to get their first bachelor's degree paid for by Starbucks. Their partner in this initiative, Arizona State University, offers over 100 bachelor's degree options, all online. Their goal is to use their financial means to eliminate barriers to education for their employees, one step closer to eliminating inequalities.
They recently incorporated a "Path to Admission" program, an extension of their college achievement program. It supports staff members who were previously not qualified for ASU admission by allowing them to take up to 10 credit hours to earn their admission to the University.
Cons
First, Starbucks coffee is expensive. It is almost impossible to leave Starbucks having spent less than $5, mostly if you prefer those delicious seasonal beverages such as the Peppermint Mocha or Pumpkin Spiced Latte. If you prefer a simple coffee cup, the average price in the United States is almost $3.
Second, Starbucks specialty drinks are extremely caloric. Fortunately, they make their nutritional information readily available, helping consumers make the best choice for them. However, many of their most popular drinks are pumped full of sugar and calories. For example, the infamous fall seasonal Pumpkin Spice Latte (grande) has almost 400 calories and 50 grams of sugar. Yikes!
Third, despite their involvement in C.A.F.E Practices, slave labor has been identified on Starbucks affiliated coffee farms worldwide. In 2018, a C.A.F.E certified plantation in Brazil was put on the government's "Dirty List." The report found that employees reported dead rodents in their food, working 17 hour days, and not getting paid for work completed. It is important to note that Starbucks denies partnering with this plantation.
Final Thoughts
Both brands will be able to provide you with a delicious cup of coffee. Illy is the right choice if ethically focused brands, an emphasis on espresso, and opportunities for coffee subscriptions are important to you. It is also much more affordable than Starbucks.
However, if you love specialty drinks such as a Pumpkin Spiced Latte or Peppermint Mocha, you would be better off choosing Starbucks. While they are more expensive, you can count on consistency and easy accessibility from almost anywhere in the world.
Sources