It is highly improbable to visit Guatemala and not notice the importance of coffee to this country. In the 1870s, coffee started to consolidate as the backbone of their economy. Ten years after, coffee became responsible for 90% of Guatemala's export. Today, Guatemala is a top 10 coffee exporter country.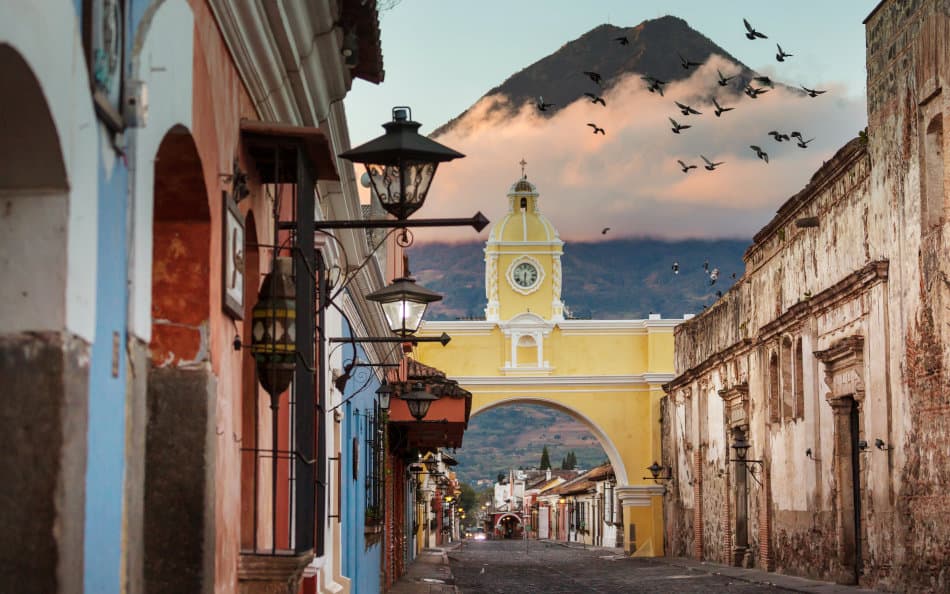 Guatemala's geographic composition creates great conditions to grow specialty coffee, such as volcanic soil, altitude, sunlight, and water. They have different geographic layouts to produce different coffee profiles. Their coffee earned respect among the coffee industry for having great quality coffee cups.
Guatemala has more than 125,000 coffee producers, farming across 300 different micro-climates, grouped into 8 regions.
The market appreciation for the Guatemalan coffee, was then confirmed by coffee industry experts in the Cup of Excellence, and afterward by roasters bidding for their green bean.
What are the best coffee regions in Guatemala?
The most popular regions for specialty coffee in Guatemala are:
Antigua Guatemala
Chimaltenango
Huehuetenango
Jalapa
Santa Rosa
Sacatepequez
At least one farm from each of the above listed regions made it to the Cup of Excellence in 2021. All scoring over 87 points in the Specialty Coffee Association scale. Not familiar to this scoring? You can check our article about it here.
Antigua Guatemala: Coffee from a Volcanic Valley
Antigua Guatemala means "Old Guatemala". This was the land for the original city of Guatemala, prior to the transition to the current Guatemala City, founded in 1776. This old city sits at 5,200 feet (1,600 meters) above the sea level and is surrounded by Volcanoes: Pacaya, Acatenango, Agua Volcano and Fuego Volcano. Mild weather, low humidity, volcanoes and altitude have been providing soil and ecosystems beneficial for coffee for centuries across the globe, and Antigua Guatemala is no exception.
These environmental components are the most influential factors for the Antigua Guatemala Coffee Bean. Then, we need to factor in the experienced and seasoned industry. As I mentioned before, Guatemalans have been growing coffee since the 1870s. They know the plant, they know how to handle the bean, and they know how to pack it properly for export.
Where does Guatemala Antigua Coffee come from?
Within the boundaries of Antigua Guatemala, there are several farms such as:
Finca Filadelfia
Finca El Pilar
Finca El Portal
Finca Gascón
Finca La Azotea
Finca Medina
Finca Santa
Finca Caoba
Finca San Isidro
Some of these farms (or Fincas by the name in Spanish) roast their own coffee for commercialization. But most of their production is for export. During our visit to Finca Filadelfia, the oldest farm in Antigua Guatemala, the tour guide shared that 70% of their production is for export.
I am a fan of single-origin coffee. During my visit most of the coffees found were blends, not having a single variety of beans. Even Finca Filadelfia had only blended coffee within their souvenir store.
During our tour, we had the chance to see plants from the following arabica varieties:
Bourbon
Caturra
Geisha
Heirloom
Maracaturra
Ovata
Pacamara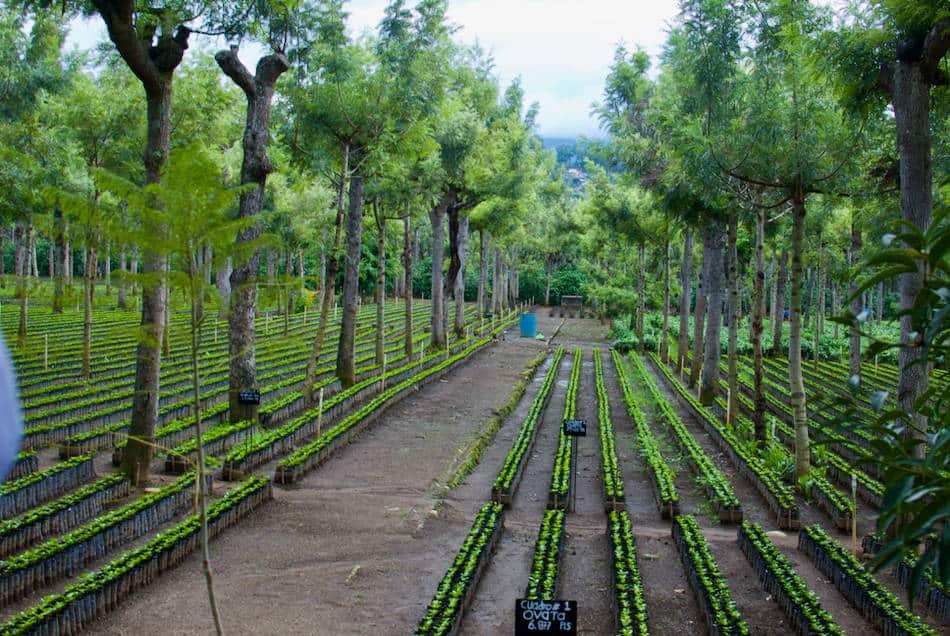 What is Antigua Coffee?
Antigua Coffee refers to coffee grown, harvested, and processed in Antigua Guatemala up to the green bean status. The conditions available in Antigua's farms will have an impact in the cup resulting from the Antigua Guatemala Coffee, condition that has been protected under the denomination of origin.
This is like what happened with champagned and sparkling wine, champagne must be produced in France, in the specific region of Champagne. Everything else, shall be considered sparkling wine.
The Denomination of Origin has set geographical limits to what can be considered Antigua Guatemala coffee.
The full process of coffee production involves the following parties:
Producer
Processor
Distributor
Roaster
Retailer
Barista
To get the denomination of origin Antigua Guatemala, coffee needs to be grown, harvested, and processed within Antigua Guatemala's boundaries. Green coffee packed and shipped to be roasted outside of Antigua Guatemala, still shall be considered Antigua Guatemala Coffee.
What does Guatemala Antigua Coffee taste like?
Guatemala Antigua Coffee can produce a very broad scope of flavours. Why? It will all depend on the type and variety of the beans, estate, process and if its single type or a blended coffee.
Where can I buy Coffee from Antigua Guatemala?
Coffee from Antigua Guatemala can be found in several coffee shops and online roasters, such as: VolcanicaCoffee.com, Amazon.com and EquatorCoffees.com.
If you want a more detailed experience, we have created a DataBase with specialty coffee roasters and retailer we have come across through our journey, you can check it out here.
Does Starbucks get their coffee from Guatemala?
Starbucks offers coffee from Guatemala as Single-Origin under the name Starbucks® Guatemala Antigua. It is a medium roast with high acidity and washed process. Taste profile includes: Cocoa, apples, caramel, and dry nuts.
You can order it from Amazon here.
Unfortunately, we have not located information on which farm(s) nor which variety(ies) they are blending to produce their final product. Hopefully we will get it soon and update this section 😉
How to get Single-Estate from Antigua Guatemala?
There are several ways to get single-estate coffee from Antigua Guatemala, the easiest being ordering online from the following
There are several farms across Antigua Guatemala, during my vist I had the chance to get to know Finca Filadelfia, Finca El Pilar and Finca Gascón. Finca la Azotea is also located in Antigua.
We created the The Specialty Coffee DataBase to save you some time searching for your next cup of Specialty Coffee.
Best coffee shops in antigua Guatemala?
Locating coffee shops is not a problem in Guatemala. You can find a wide variety of shops that is a reflect from their coffee culture. One of the most popular and easy to find is Cafe Barista. If you happen to be near a farm, your best option will be to go to the farms shop, such as Finca Filadelfia.
Café Barista has more than 16 years of experience in the industry and provide over 50 locations across Guatemala for a memorable coffee experience.
El Injerto offers a great selection of their coffee within their 4 locations. If you want to brew your own Injerto at home, you would be able to purchase online searching on our Specialty Coffee Database.
Huehuetenango
Huehuetenango is a city located west of Guatemala City, siting at 6,200 feet above sea level near the Cuchumatanes mountains, next to the Mexican border. The presence of a mountain near a coffee plantation has an impact on the amount of sunlight the plant gets during the day. This region is the highest and the driest region for Guatemalan coffee.
Unlike the other regions from Guatemala, Huehetenango is non-volcanic soil. This nuance from the soil, allows local growers to produce mildly acidic flavors to the beans that brews a cup with similarities to wine.
The following farms are in Chimaltenango and have Specialty Coffee:
El Injerto
Los Guayabales
La Esperanza
Los Aguacatones
Las Flores
La Maravilla
Rosma
La Reforma
El Zapote
Kape Tenango
El Amate
Ponderoza
Plan De La Vega
San Antonio
Bella Elizabeth
El Refugio
El Limonar
Villaure
Flor del Café
Mujba- La Unión
El Diamante
In the Huehuetenango region, they have the following coffee bean varieties:
Pacamara
Bourbon
Caturra
Gesha
Java
SL-28
Maragogype
Chimaltenango
Chimaltenango is department of Guatemala sited at 4,200 – 5,500 feet (1,700  to 1,900 meters) above sea level, with a dry climate, soil with lime and clay content. Located north of City of Guatemala, Chimaltenango is a region with a younger history of producing coffee, compared to the +100 years the Antigua has.
Among the varieties available in the Chimaltenango region you can find the following varieties:
Bourbon
Catimor
Catuai
Caturra
Geisha
Pacamara
The following farms are in Chimaltenango and have Specialty Coffee:
Finca La Cumbre
El Guachipilin
La Hermosa
The Specialty Coffee Association is not the only mechanism to grade coffee quality. For the Guatemalan coffee, most of the coffee from Chimaltenango will be considred Strictly Hard Bean (SHB).
Jalapa
The region of Jalapa es a department in the southeast of Guatemala. The city of Jalapa is a valley at an elevation of 4,488 feet (1,368 metres) above sea level. Alike other regions in Guatemala, Jalapa is surrounded by the Jumay volcano and other mountains that help create the unique environment for coffee production.
Among the varieties available in the Jalapa region you can find the following varieties:
The following farms are in Chimaltenango and have Specialty Coffee:
Santa Rosa
Among the varieties available in the Jalapa region you can find the following varieties:
Bourbon
Blue Mountain
Catuai
Gesha
Yellow Catuai
Maracaturra
Orange Bourbon
Pacas
SL-28
Pacamara
The following farms are in Chimaltenango and have Specialty Coffee:
Sacatepequez
Sacatepequez is a department in Guatemala, in the central region of the country and the second most important in the country. Average altitude of 7500 feet (2313 meters).
Among the varieties available in the Sacatepequez region you can find the following varieties:
The following farms are in Sacatepequez and have Specialty Coffee:
Las Nubes Y Anexos
Santa Clara
If you want to get more information about the beans varieties, here you can take a look at our guide: