Making a matcha latte is not always an easy process. In fact, making matcha can be as challenging to finesse as making a quality cappuccino or fancy espresso drink. The key is in the matcha powder itself and finding the absolute best quality and tasting matcha powder for your matcha latte.
To start your matcha latte journey, mull through this article to find the perfect matcha powder to put you in the right direction! Happy hunting!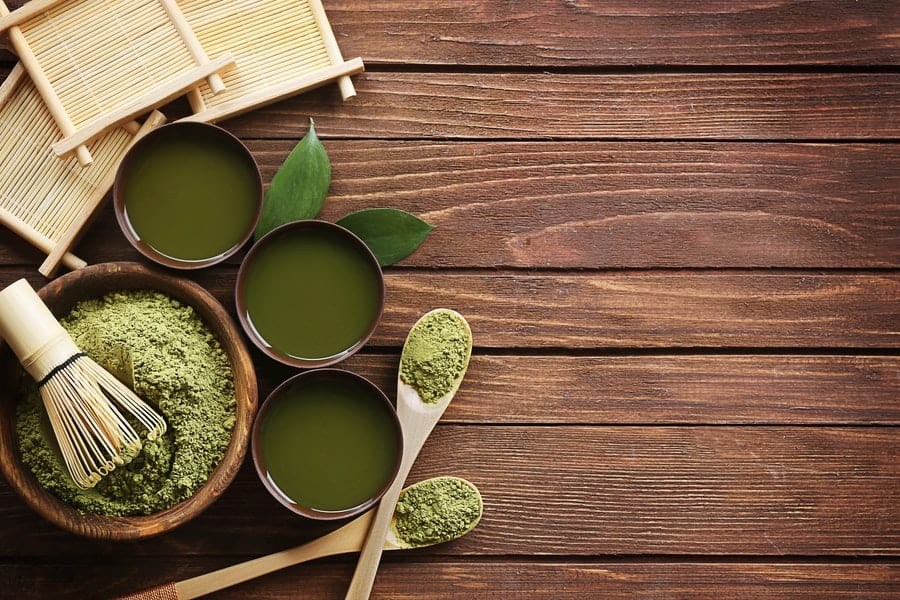 The Best Matcha Powders for Beginners
When just beginning your matcha latte journey, it is best to start out with a sweeter, lighter-tasting matcha powder as some more intense blends can put a newbie off. Below is a list of some great beginner matcha powders that are delicious and inexpensive.
Jade Leaf Matcha Green Tea Powder
If you are a beginner matcha latte drinker but quality ingredients is of importance to you, these Jade Leaf matcha green tea powder packets are a step in the right direction! A starter pack of 10 packets is less than $10, meaning you can invest in trying high quality matcha without it feeling like too much of an investment.
These matcha powder packets are also desirable because they are pre-measured. Each stick contains 1 gram of matcha powder. In order to create a matcha latte you simply pour a stick of powder into either 2 ounces of hot water or 6 ounces of milk. Voila! The easiest matcha latte you've ever made.
While Jade Leaf matcha powder is a step up from Trader Joes latte mix, it is not classified as ceremonial matcha (so it isn't the highest grade you can find.) However, Jade Leaf is a trusted matcha company and all their matcha is sourced directly from Japan and is ground down to a fine powder via traditional stone-grinding.
This matcha powder does lack some sweetness. If you have never had a matcha latte, you may want to add a little sugar so as not to be turned off by the bitterness of matcha that lacks saccharinity.
Naoki Fine Uji Matcha
This delicious, sweet premium ceremonial matcha from Naoki Matcha is excellent for newbies because it is top quality, but effortlessly delicious! This matcha powder is made from the first harvest leaves sourced directly from Uji Kyoto, Japan.
The leaves are sealed in an air-tight packet prior to shipment, and stored in an adorable tin canister that you'll be excited to display next to your La Colombe coffee bags. This ceremonial matcha is light, refreshing and creamy. It makes for an incredible matcha latte when you add a teaspoon of sugar and mix with steamed milk!
Naoki also includes explicit instructions in their canisters, understanding that not everyone is as well-versed in matcha. For this reason, it is an excellent way to dip ones' toes into matcha latte making. It's also under $25 for 40 grams of powder! So, if matcha ends up not being your thing, you don't feel guilty for spending too much.
The Best Sweetened Matcha Powder for Lattes
Not everyone wants the earthy, astringent taste of pure, ceremonial matcha powders. For those with a sweet tooth, below are some excellent pre-sweetened matcha powders for delicious matcha lattes.
Trader Joes Matcha Latte Powder
Trader Joe's matcha latte powder is an excellent matcha powder option for beginners. This particular blend can be made with boiled water or steamed milk. When mixed with hot liquid the powder dissolves quickly and becomes thick and creamy!
There is sugar in the mixture, so this matcha powder is pretty sweet. If sweet lattes aren't your thing, this TJ powder may not be for you. However, if you like sugar in your matcha, this powder is delicious!
The downside to this Trader Joes latte mix is that it is likely not authentic Japanese matcha powder. Trader Joes has a tendency to recreate foods with similar products, but not always top-quality ingredients. This is why this powder is ideal for beginners. If you are wanting to try matcha lattes, but aren't concerned with the grade of latte, but rather the taste, this mix will do just fine. It's also under $10, and makes about 6-8 cups of matcha latte!
Full Tea Leaf Co Sweet Matcha
Full Tea Leaf Co makes excellent grade, organic matcha powders. Amongst these is their premium, organic sweet matcha powder, which is blended with organic cane sugar.
The pre-mixed sugar element makes this a super easy latte to make, because you won't need to add sugar to the latte. Simply mix the powder with steamed milk and presto! Though cane sugar has been blended into this organic matcha powder, the powder is surprisingly silky smooth.
The taste of this matcha latte will be subtle, sweet and creamy. While still getting that earthy flavor, just with less bitterness and that stronger umami flavor. It is full of antioxidants and vitamins and minerals like potassium, iron, fiber and vitamin C.
This organic sweet matcha powder from Full Leaf Tea Co is under $15 for a 3oz jar, which yields about 20 cups of latte! This is an inexpensive way to enjoy matcha lattes, and if you need sweet and creamy vs earthy and umami, this will likely yield a better matcha latte experience.
The Best Ceremonial Grade Macha Powder for Lattes
If you do not want to skimp on quality, you must go with a ceremonial grade matcha powder. There are so many to choose from, some organic, some non-organic. Taste, quality, and purity of tradition are amongst the top considerations for exceptional ceremonial matcha, as well as pricing.
Matcha Konomi Akira Organic Matcha – Ceremonial Grade
The ceremonial grade Akira matcha powder from Matcha Konomi is highly-reviewed, fostered in tradition and rooted in perfection. To get a full scope of their traditional operation, located in Kyoto, Japan, watch this tour of their facility and harvesting methods!
Matcha Konomi uses only the best green tea tencha leaves which have been shaded in the spring and were plucked at first harvest. In fact, every single leaf that goes into a Matcha Konomi matcha powder is from a first-harvest. They store all their first harvest leaves in ancient clay pots to preserve the dry leaves, and don't stone ground them until ready to make a new batch to ensure every mix of matcha powder is fresh.
This Akira organic ceremonial powder ranks as one of the best thanks to its delicious taste, its reasonable price, and the traditional source of the matcha (Japan) and its production process. The care and craftsmanship that goes into every batch of Konomi Matcha powder is noticeable and worth every gram.
Mixed with your choice of milk, this may be one of the best matcha latte experiences you ever have. Akira organic matcha powder jars come in either 1 oz, 3.5 oz, or 1 lb.
Ippodo Ummon Matcha
If you are looking for the best tasting matcha latte you'll ever have, look no further than Ippodo Tea Co's Ummon-no-mukashi matcha powder. This powder is not for beginners. This is for the intermediate matcha drinker looking to step up their matcha latte game with some legitimate ceremonial matcha.
This Ummon-no-mukashi powder is both creamy and earthy, giving off its signature umami flavors amidst natural sweetness. The only disappointing aspect of this delicious matcha powder is that this particular batch is not organic. However, Ippodo Tea Co does create an organic powder, called Bio Organic Matcha. This organic blend will be similar to the tasty Ummon-no-mukashi, except slightly more bitter and astringent.
Ippodo matcha teas are pricier than others, but well worth it.
Kenko Ceremonial Grade Matcha
If you are looking for a ceremonial tea that not only tastes delicious but really packs an energy punch, Kenko ceremonial grade matcha powder is the ideal choice for your matcha lattes! Kenko matcha is by far one of the best coffee substitutes on the market, giving you that energy boost you need without the undesirable jittery-ness.
This matcha powder is super high in antioxidants and can aid in health benefits and enhance your focus, mental acuity, and energy level. All Kenko brand matcha is shade-grown, hand-picked, air-dried, and ground to powder in traditional stones. They also provide amazing customer service – if it's not your cup of tea, send it back for free!


This is also an excellent ceremonial blend option because it is less expensive than its competitors, costing less than $25 for 1 oz of high-quality matcha powder. The taste is refreshing, lacks bitterness, and is absolutely delish in latte form!
MatchaBar Ceremonial Grade Matcha Powder
MatchaBar is a quality, well-trusted brand for matcha powder. The MatchaBar ceremonial grade matcha powder is one of their best selling items! With a smooth and well-balanced taste, their ceremonial matcha is sweet, earthy, with hints of umami! Delish.
You can tell this matcha is quality thanks to its truly vivid emerald green coloring and the fact that MatchaBar teas get their matcha sourced directly from their partner farm in Kagoshima, Japan. Each batch of powdered matcha is made in small bunches that are hand-blended and grated by a certified Chasi tea master!
Bonus points? The style of the Matcha Bar tin is reminiscent of the 70s, so you'll feel super groovy while sipping your delicious, ceremonial grade matcha latte! Additionally, these finely pressed emerald powder tins are less than $25 for 30 grams of powder. It matches up with quality without eating away at your bank account. Gotta' love that!
The Best Matcha Powder for Iced Matcha Lattes
Not all matcha lattes are meant to be enjoyed hot. They can be just as enjoyable chilled on ice. Below are the best matcha latte powders for iced or cold brew matcha lattes.
Breakaway Matcha Cold brew Green Tea Powder
This 100% certified organic cold brew green tea powder from Breakaway Matcha comes highly recommended! It is a modern way of enjoying matcha despite being traditionally stoneground to perfection and being sourced from Kyoto, Japan. This beautifully decorated tin comes with 30 grams of matcha powder for around $35. For high grade, organic, traditionally ground matcha, this is a reasonable price!
This powder is free from gluten, sugar, dairy, GMOs, preservatives, and any additives.  It is chock full of phytonutrients, antioxidants, and polyphenols. Much like standard cold brew, this chilled matcha latte will definitely give you focus and energy.
The process of enjoying this cold brew green tea powder is simple: fill a jar or water bottle with 12oz ice cold water. Add 1.5 grams (or a tsp) of matcha. Shake that baby up!  Enjoy straight from the bottle or pour into your desired class.
Matcha Love Sweetened Barista Mix
Matcha Love makes various matcha powders and blended mixes; however, their signature barista blend stands out as an iced matcha latte favorite! Not only does this bag of matcha come with thousands of positive reviews, it comes pre-sweetened, meaning all you need to do to create the perfect matcha cold brew is add milk and ice!
This matcha mix bag is finely ground, vibrant emerald, and is less than $15 for 8 oz of delicious matcha powder. Matcha Love is also an award-winning tea brand, so you're sure to enjoy any number of their matcha powders.
Best Matcha Latte Mixes for Dieters
For those who prefer a pre-made matcha powder latte mix but are trying to stay away from carbs, these diet-friendly latte mixes are the way to go!
Primal Kitchen's Collagen Matcha Latte
If you are looking for a matcha protein mashup, some amazing keto latte options are deliciously matcha flavored! Primal Kitchen's collagen matcha latte, for example, is packed with protein, collagen, and all the wonderful antioxidants and nutrients of the matcha.
This drink mix is totally dairy-free, comes packed with 10 grams of collagen to support hair, nail, and skin health, and tastes amazing hot or poured over ice! There are also minimal amounts of sugar, which is why this drink is considered keto-friendly. You can enjoy this latte without concern about your weight line or elevating your blood sugar levels.
The sweetener used in this mix is made from monk fruit extract, coconut milk powder, and vanilla extract. Any sweetness you do taste is made from naturally occurring sweeteners that help keep your body in ketosis! All while tasting like a matcha latte!
The best part is this mix makes matcha lattes super easy to make! Add the mix to your hot water or iced milk alternative, and enjoy! It's perfect for a morning beverage or an afternoon pick me up! You can't beat this price either: less than $35 for 9 ounces of the mix!
Vital Proteins Collagen Matcha Latte
Similar to Primal Kitchen, Vital Proteins offers a collagen matcha latte mix you're sure to love! The best part? This diet-friendly matcha latte mix is less than $30 for a whopping 11 ounces of the mixture! You can enjoy your protein, collagen, matcha lattes for weeks and weeks!
This mix contains 10 grams of collagen, sourced from grass-fed, pasture-raised cattle. There are only 3 grams of sugar, all made from whole-food ingredients, and it is packed with 20 grams of healthy amino acids derived from the real matcha powder mixed in.
The coconut milk powder blended in adds a creamy sweetness to the mixture while also provides healthy MCT fats to help aid mental clarity and focus. Reviews are raving about the taste, the creaminess, and just how easy it is to mix in with water or milk for an instant matcha flavored latte!
What is Matcha Actually?
Matcha means ground tea: ma = ground, and cha = tea. Matcha is a young, delicate, high-grade green tea plant grown in the shade for three weeks before hand-picked, dried, and ground down into a fine powder. Because of the shading technique, matcha produces a high chlorophyll level, which renders matcha's vibrant emerald shade. 
Why is Matcha Considered a Superfood?
The chlorophyll in matcha provides its distinct coloring, but it packs these tiny leaves full of nutrients and vital antioxidants. In fact, matcha rates as one of the top foods with the greatest number of antioxidants. Antioxidants help to reduce the number of free radicals in the body.
The signature shading technique also helps the matcha leaves to produce an important amino acid called L-theanine. L-theanine helps to reduce anxiety, boost one's mood, all while aiding mental acuity and focus. All of this makes matcha a superfood!
Matcha is unique from other green teas in that when you consume matcha; you are actually ingesting the whole leaf vs. simply leaking the nutrients from dried tea leaves that you never ingest.
What to Look for in Matcha Powder
With so many matcha powder brands on the market, it can feel overwhelming sifting through them all. How do you know which lives up to its name and which is a knock off, low-grade version? Here's what to look out for when picking out matcha powder to make lattes:
Type: There are two different types of matcha – ceremonial and culinary.  Though ceremonial grade matcha powder is the most expensive, it is by far the best to drink. Ceremonial tea will be free of bitterness, will pose a natural sweetness, despite its lack of actual sugar.
Source: Matcha powder has been developed to perfection in Japan. Therefore, the best quality matcha powder will be from a single-varietal from a matcha-producing region in Japan (Uji, Kagoshima, Shizuoka, or Kyoto). Any matcha powder that is grown and produced in the United States, or any other country aside from Japan, is an automatic indicator that it will be lower quality matcha.
Hue: The color of matcha powder is indicative of its quality. When looking for delicious matcha powder, always seek out mixes that are bright and vibrant in hue. True, saturated greens are ideal. If a powder looks pale, light green, or even slightly yellow, it is not high quality and will likely be bitter to taste.
Touch: a good quality matcha powder will be super delicate and fine to the touch, almost like a loose eyeshadow powder. If it is grainy and coarse, it is not the real deal.
Smell: the smell of a good matcha powder should be fresh, earthy, and almost grass-like.
Price: unfortunately, when it comes to matcha powder, too good of a deal is actually too good to be true. As a rule of thumb, most matcha powders equal about $1 per gram of match powder.
What is the Difference between Ceremonial and Culinary Matcha?
Ceremonial and culinary teas differ in the age of the leaf and
Ceremonial Matcha – this type of matcha is made from the youngest and finest of tea leaves. Ceremonial matcha has a delicate, sweet, light flavor that is really only fully experienced when enjoyed through a cup of tea or latte.
Culinary Matcha is a mix of both young and old tea leaves and gives off a robust, earthy, sometimes bitter flavor. Culinary matcha tends to be less vibrant in color, with a slightly yellow-green hue. It should still be a beautiful green color and should still be a fine powder. This is best for cooking or baking since the flavor is more robust.
How to Properly Store your Matcha Powder
Matcha powder is actually very sensitive to both light and heat. It would be best if you stored your matcha properly so that it does not go bad. Not only because it will make for a less than desirable matcha latte, but because, as you've learned, matcha is expensive!
Store your matcha powder, some place cool and dark, like the fridge or the freezer. This is especially true if you do not drink your matcha every day.
The Best Kind of Milk for a Matcha Latte
Fortunately, any milk can be used to create a truly delicious matcha latte. However, most consumers report preferring cow's milk, oat milk, or macadamia nut milk! They are richer, a little fattier, and let the matcha shine the best.
How to Make a Great Matcha Latte
If you are a matcha aficionado, you probably own a ceremonial bowl (chawan), a bamboo whisk (chasen), and the bamboo scoop (chashaku). If you are not, however, you can make a matcha latte very easily using some regular household items such as:
Things You'll Need
A spouted glass cup (Pyrex 8 oz measuring cup)
A fine mesh strainer
Small whisk or fork
A teaspoon
Your matcha powder or mix
A tea kettle
Milk steamer or pot to steam milk
Milk alternative
Matcha Latte Instructions
Step 1 – boil at least 1 oz of water
Step 2 – Steam milk of choice (cow's milk, almond, coconut, oat milk, soy, etc.)
Step 2.5 – sift matcha powder into a teacup to create a fine powder
Step 3 – once the water has boiled, then cooled slightly, pour 1 oz of water slowly over the sifted matcha powder. You never want to pour boiling water onto matcha powder.
Step 4 – whisk the mixture until it's kind of a watery paste
Step 5 – add 1 teaspoon of sweetener (cane sugar, honey or maple syrup)
Step 6 – pour steamed milk of choice onto matcha water-paste, mix around, and enjoy!
Can you Add Coffee to a Matcha Latte?
It may sound like an odd combination at first but mixing coffee and matcha actually makes for a robust and delicious morning drink. While you might not add a full cup of coffee, what you can do is add a shot of espresso. When you add espresso to drinks like chai tea lattes, it becomes what is known as a 'dirty chai.'
Similarly, when you add espresso to a matcha latte, you'll get a slight hint of coffee, with that extra boost of caffeine, plus all the health benefits of both coffee and match! The taste may be an acquired one, but there's certainly no reason why you can't mix the two!
The Key Take Away
Matcha is a magic, nutrient-rich tea leaf that is not only beneficial for your health but tastes amazing. Creating the perfect matcha latte is certainly an art and takes time to perfect. However, many kinds of matcha powders are available, some of which have added sugar or dried condensed milk, enabling you to create a tasty latte with few ingredients in no time!
If you are a matcha connoisseur, a matcha powder blended with sugar just won't cut it. You need to go with a ceremonial grade tea sourced from Japan to achieve that ultimate earthy, umami, creamy latte quality.
Fortunately, there is a different kind of matcha powder for everyone, based on every folks' matcha latte preference. Now you're armed with a list of the best; all that's left to do is click 'buy' and try it!