Nespresso machines offer a quick and convenient way to get your daily dose of coffee. They are relied upon by millions of coffee drinkers, who often hold strong opinions about which machines and pods are the best. However, which third-party pods are compatible with Nespresso machines?
Some popular alternative coffee pods for Nespresso machines are made by Starbucks, L'Or, Illy, HiLine, and Colonna. Most alternative pods work with the Original Nespresso machines but not the Vertuo lines. However, some brands like Starbucks offer pods for these machines as well.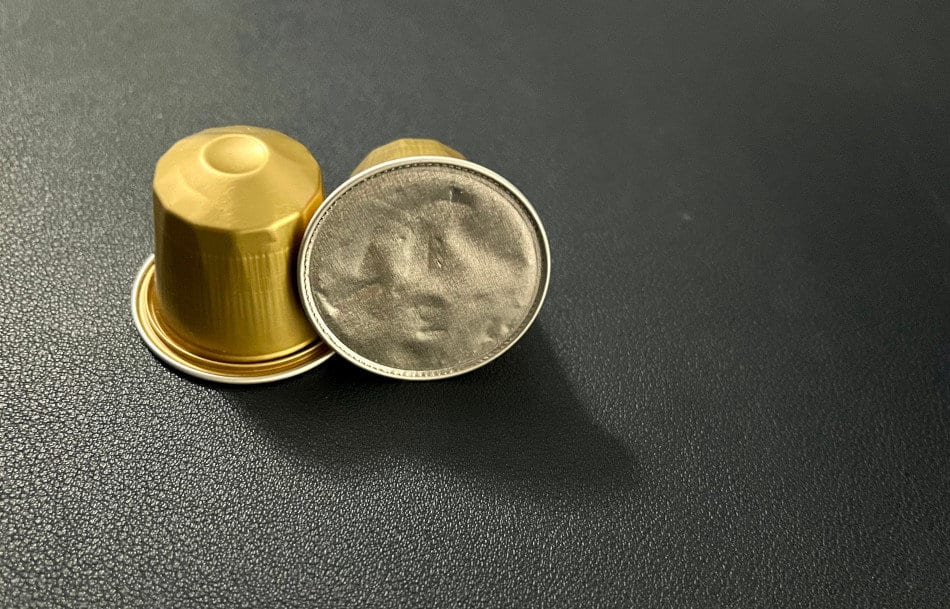 Keep reading to learn more about which third-party coffee pods you can use with your Nespresso machine.
Best Budget Coffee Pods for Nespresso Style Machines
Starbucks
Starbucks makes a variety of different coffee pods in a variety of flavors. From a classic hazelnut flavor to a house decaf flavor to a dark roast, there are many different Starbucks coffee pod options to choose from. Since 2019, Starbucks has been collaborating with Nespresso to make Starbucks Nespresso coffee pods.
These coffee pods are relatively affordable. In fact, you can get a variety pack with 50 capsules from Amazon here. Of course, most people go to Starbucks to purchase fancy barista-made drinks, so whether or not Starbucks coffee is worth it without the cream and other additives is up to you.
L'Or
L'or offers a large range of different capsules that are relatively affordable. With various light, medium, dark, and decaf options, L'Or offers a premium taste at a relatively low price, although they do not offer a particularly wide range of flavored coffees. L'OR coffee is originally from France.
L'Or pods aren't necessarily considered extremely luxurious, but they have received many positive reviews for having great flavor. L'Or coffee pods are about 2/3 the price of Nespresso pods. Try L'Or, and order on Amazon.
Illy
Illy offers delicious Italian coffee at low prices, with 6 different types of Nespresso-compatible pods to choose from (Classico, Intenso, Decaffeinato, Forte, Lungo, and Intenso Lungo). You can purchase 10 capsules for $10 (on Amazon). The pods themselves are recyclable.
HiLine
HiLine has some of the most interesting flavored coffee pods on this list, with flavors like Cinnamon Sticky Buns, Creamy Coconut, Butterscotch Toffee, and Sea Salt Caramel. The variety is truly awe-inspiring, especially considering that there are 20 different flavors to choose from. The pods themselves also cost less than $1 each, making this a good Nespresso pod alternative for those on a budget.
Good and Gather Coffee Pods
According to some customers, Target's in-house brand, which is called Good and Gather Coffee Pods, is surprisingly good. They also are relatively cheap. Another benefit of using these pods is that they're available in every Target location, which means that you likely won't need to have them shipped to you like many of the foreign or other fancy coffee pods. It also means that Good and Gather coffee pods are often easier to find than Nespresso pods.
Lucaffe
Lucaffe coffee pods have an Italian espresso blend designed to be widely appealing thanks to its smooth flavor with small notes of chocolate. The blend consists of 80% Arabica and 20% Robusta coffee beans, and it works great as part of an expresso. Lucaffe Nespresso pods can be purchased on Amazon.
Bestpresso
Bestpresso may be one of the cheapest coffee pods on this list, as you can get a variety pack of 120 pods for about $40. This brand has a wide variety of different flavors and variety packs to choose from. Some of the flavors they offer include:
Intenso
Decaffeinato
Ristretto
Verona
Lungo
Espresso
Vanilla
Caramel
Chocolate
Arabica
Colombia
Brazil
Roar Gill
Operating out of the United Kingdom, Roar Gill is decently cheap, although shipping costs are quite high. One of their biggest selling points is that their pods are compostable, making them very eco-friendly. Their flavor ranges are a bit more exotic than some of the other pods on this list, and the packaging is some of the most distinctive that you'll find.
They source their coffee pods from a variety of different global locations, including Peru, Ethiopia, and Brazil. They also have a Cortado Blend, Bold Blend, and a Swiss Water Decaf blend.
Costa
Costa makes a few delicately crafted flavors of Nespresso-compatible pods, including their classic Mocha Italia signature blend and their Costa Brazilian Blend Ristretto.
HEMA
The only German brand on this list, HEMA pods can be purchased on Amazon. These coffee pods are extremely cheap at far less than $1 per pod.
Lavazza
Another great choice for Italian espresso, Lavazza pods come in a variety of different flavors, including Crema e Gusto Forte, Espresso Intenso, Rossa, and several other flavors. All of the capsules are labeled with their intensity on the Lavazza website.
Best Luxury Coffee Pods for Nespresso Style Machines
If you enjoy drinking luxurious coffee, these pods are great to use with your Nespresso machine.
Colonna
All of Colonna's coffees are single-origin from one of a number of sources. These include Uganda, Nicaragua, Colombia, and Costa Rica. One of the most interesting things about Colonna is that all o their coffees include a description of where they are sourced from, along with a brief history of these same farms. At $12 per 10 capsules, Colonna is relatively expensive, but the reviews are generally quite complimentary.
Sea Island Coffee
Where Sea Island Coffee shines is in the diversity of its products. Similar to Colonna, they have single-origin offerings, with coffee from Jamaica, St Helena, Hawaii, India, the Galapagos, and Puerto Rico. Their pods are also among the most expensive Nespresso machine-compatible coffee pods available, but if you are looking for variety and luxury, this may be the coffee pod brand for you.
Difference Coffee
Difference Coffee prides itself on serving the world's rarest coffee in capsules. They sell indulgent-sounding flavors such as yellow bourbon, Elida Geisha, and Wild Kopi Luwak, with their most expensive pods selling for as much as $8 per pod or more.
Overall, if you can't find Nespresso pods, don't like any of the flavors, or simply want more coffee flavors to choose from, there are plenty of third-party coffee pods that are compatible with Nespresso machines.